Pro14: Addition of South African teams positive - Johann Muller
Last updated on .From the section Irish Rugby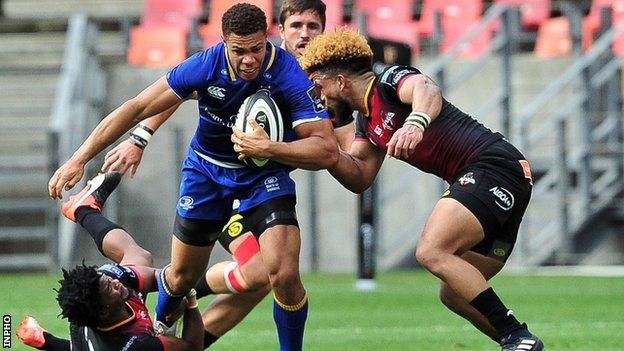 Ex-Ulster captain Johann Muller says the addition of South African teams Southern Kings and Cheetahs to form the Pro14 is " a very positive move".
The former Super 14 clubs have struggled in the early stages of the revamped tournament although the Cheetahs beat Zebre 54-39 on Saturday.
"They were the two weakest teams in Super Rugby and it will be very tough for them to settle in," said Muller.
"They've come up against some quality sides but it's a long season ahead."
"These players have been playing rugby non-stop for the last six months and now they are straight into the Pro14. It will take them time to bed in.
"All in all, it's a very positive move from a South African rugby point of view and also from Europe's point of view," the Springbok told BBC Radio Ulster's Sportsound programme.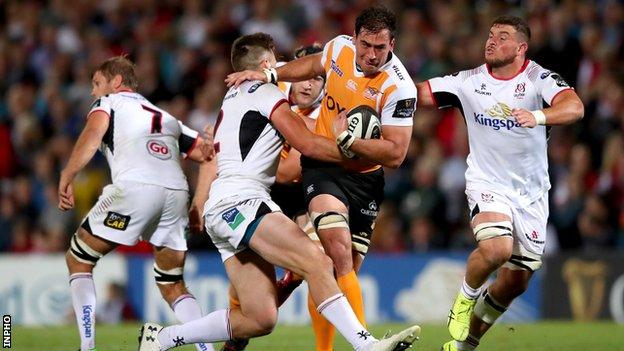 Muller added that he believed the South African teams will help to "create a real spectacle" once they become accustomed to the tournament and the conditions they are playing in.
"It's been a tough couple of weeks for them but it will be interesting for the European teams to play in the heat of the South African summer, especially in Bloemfontein, where temperatures can reach in the region of 35 degrees.
"It's a fantastic move and there is a real buzz in South Africa looking forward to the challenges ahead. There's a real public interest in the tournament and it's brilliant to see Pro14 rugby on television every week in South Africa."
Deysel will be fans' favourite
The former second row was thrilled with the way Ulster fought back to defeat the Scarlets at the Kingspan Stadium on Friday night and believes one of his compatriots, the currently injured Jean Deysel, will make a huge impact with the Irish province.
"I played with Jean quite a bit - he has had a tough ride with injuries but there is no doubting the quality of the man - he's an outstanding, outstanding rugby player, a beast of man, as hard as a rock, and he'll be a real favourite with Ulster supporters," argued the former Ulster skipper.
Meanwhile, Muller admitted that South Africa's record 57-0 defea at the hands of New Zealand in the Rugby Championship on Saturday, bringing to an end the Springboks' six-game unbeaten run, was "incredibly tough to watch".
"Last year was a horrible year for South African rugby but this year they have shown some real progress and fight.
"We are not where we want to be yet and this is where the boys have to show some pride in the jersey and stand up and be counted.
"If they can get positive results in their next two matches against Australia and New Zealand, then they can go into the autumn international series in Europe with some confidence, but if they lose those two it will be incredibly tough heading to Europe."
Ireland host South Africa in the first of their autumn internationals on 11 November.