Alex Corbisiero: Rugby union has 'huge market' in USA
By Chris Jones
BBC Radio 5 live rugby reporter
Last updated on .From the section Rugby Union81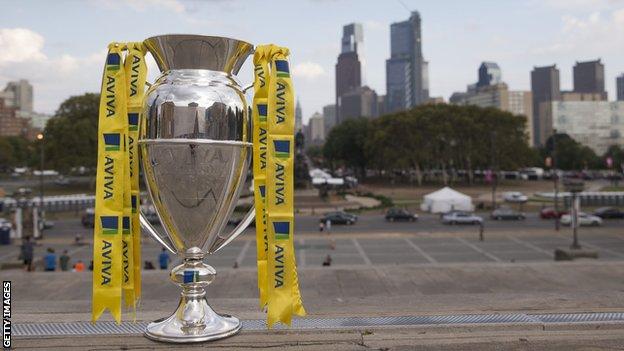 Rugby union has a "huge market" in the USA despite a crowd of just 6,000 watching Saturday's Premiership match in Philadelphia, says American rugby expert Alex Corbisiero.
Saracens beat Newcastle in front of banks of empty seats at the 18,500-capacity Talen Energy Stadium.
But former Lions and England prop Corbisiero is sure rugby union can find a place in American sporting society.
"I'm completely convinced of that," the NBC analyst told BBC Sport.
"It's never going to be [alongside] NFL and basketball, but I do think there is a huge space and a huge market.
"It's disappointing when you don't fill a big stadium - but, on the whole, the week was a success for me.
"A lot of people have criticised it just because of the crowd size, and I don't think it's a fair metric to judge the whole week.
"You got to see huge-name players playing in the United States, all the coaching clinics, the kid camps, the eyeballs on the sport over there. A lot of seeds have been sown."
Bosses at Premiership Rugby had hoped for a sell-out crowd, but Corbisiero says there are mitigating factors behind the low turnout.
"You have to be realistic. College football is on a Saturday, you have NFL to compete with, and a lot of people playing rugby play on a Saturday, which is why they delayed the kick-off to 5pm," he said.
There will continue to be one Premiership game a season in the USA for the next three seasons, and Corbisiero says lessons will be learned to improve the experience.
Future matches are likely to revert to March to limit the impact of heat and humidity, which made handling difficult.
"Next time it will be done at a different time of the year, with better weather, and no other sports to compete against," Corbisiero added.
"There is a lot of work to be done, there is no quick fix, but I don't think anybody on this side [of the Atlantic] is panicking.
"There is no silver bullet that is going to make this a mainstream sport overnight, but I do think it is in a good position. The curve is only upwards from here."
Corbisiero feels engaging the grassroots will be crucial to rugby union's growth in the country, as well as improving the television offering when it comes to showcasing the sport.
"Getting kids playing the game and exposing them to the top level of rugby is the big challenge," he said.
"It's a slow-burner, but there are some big and exciting things to come about rugby being broadcast in America, which will turn a lot more heads and show the ball is rolling in the right direction."