Premiership: Leading coaches voice opposition to proposed season extension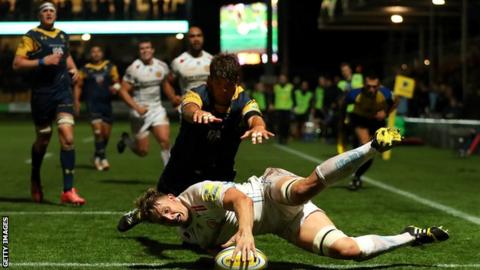 Leading club directors of rugby have voiced their opposition to the proposed Premiership season extension.
In March, Premiership Rugby announced plans to lengthen the season to 10 months from 2019-2020 onwards, in order to reduce the overlap between international and domestic rugby.
The concept has already been widely criticised by some senior players on welfare grounds.
"My view is that longer isn't better," said Saracens chief Mark McCall.
He told BBC 5 live: "Let's look for a different way, a smarter way, to look after the competing demands."
Gloucester boss David Humphries added: "I understand the concerns the players have, and they are concerns we as a club would have as well.
"My own view is that it's difficult to lengthen it beyond where we are at, and yet retain that quality of competition throughout the season."
Premiership Rugby says the new structure will allow for more frequent rest periods during the season, but Northampton director of rugby Jim Mallinder has warned against reducing the length of pre-season as a consequence.
"I understand the principle of the global season and aligning the northern and southern hemisphere in terms of tours and dates, but I think we need to be very, very careful," he said.
"It's not just the physical load, it's the mental as well. Even if you have a week or so off in the season, it is not the same as stopping and not playing for a certain amount of time."
These sentiments suggest a lack of alignment within the English game, with club chairmen making decisions for commercial reasons which are not supported by coaches and players.
England captain Dylan Hartley has supported other senior internationals, including Billy Vunipola, who are concerned about the strain that will be put on players.
Strike action has not been ruled out if a compromise cannot be found.
"By extending the season, you are only going to get mentally and physically drained players," Hartley told 5 live.
"I think the guys need adequate rest, and I don't think extending the season helps that.
"I haven't seen the structure of it to comment any further, but my gut instinct is to say that player welfare is paramount, because without the players we don't have a game."
The proposal has already been rejected by the Rugby Players' Association, whose chairman Christian Day questioned the physical and mental impact if the season is extended.
"You can't just talk about minutes played because 40 minutes for a tired prop could be 80 minutes for a winger in terms of contact and physical stress on the body.
"Mental strain, you can't even measure that. How do you measure someone becoming clinically depressed because they're weekend after weekend taking a battering," he told BBC Radio Northampton.
"As a contact sport, there is no other sport in the world that plays a longer season than we do at the moment, so why would we go longer."
Day sidestepped the issue of a possible player's strike, saying: "I've been involved with the RPA for six to seven years and I've never come across anything that made me think a strike was possible."
But he added: "This is the first time I've seen a proposal with no positives for the players, so why would we agree to it?"