Premiership: Extended season will be 'more balanced' for players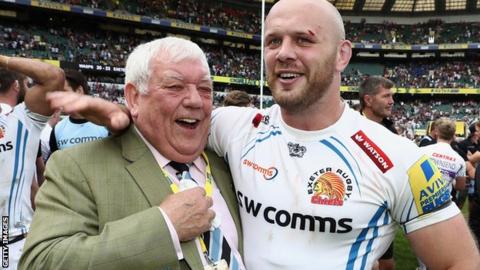 The proposed extended Premiership season will result in a more "balanced out" schedule for club players, says Exeter chairman Tony Rowe.
Premiership Rugby's plans to lengthen the domestic campaign by a month from 2019-2020 have been opposed by players, with strike action not ruled out.
But Rowe believes the 10-month season will help player welfare.
"The extended season isn't about more games, it's about putting more breaks in there," Rowe told BBC Radio 5 live.
Part of the rationale behind lengthening the season is to reduce the overlap between the international and domestic game.
But leading players have voiced their concern at the prospect of a longer campaign and a shortened pre-season.
Saracens and England number eight Billy Vunipola, who is sidelined by a knee injury, told the Rugby Union Weekly podcast in September that "something had to change" to reduce the burden on players.
"As a contact sport, there is no other sport in the world that plays a longer season than we do at the moment, so why would we go longer?" says the Rugby Players Association (RPA) chairman Christian Day.
"This is the first time I've seen a proposal with no positives for the players, so why would we agree to it?"
However, Rowe says spreading out Premiership fixtures would allow for more frequent rest periods during the season.
"The reality is that at the moment a guy could start playing on 1 September, and play right though until May with no breaks," he added.
"The idea of the extended season is putting breaks in so you can rest the guys.
"If you had a break in November when you could give someone a week or two off, and a break in March when you could give someone a week or two off, it's a bit more balanced out than going right the way through."
The RPA have stressed the need for a proper pre-season to allow players time to recover mentally and physically.
English rugby's Professional Game Board is now under pressure to seek an urgent resolution, with the new chief executive of the Rugby Football Union Steve Brown expressing his concerns.
'Only so much money in the pot'
Rowe also says investing in academy players is a solution to managing the rise in player wages.
Wasps director of rugby Dai Young says he has had to trim his squad in order to keep within the £7m salary cap.
"I do get it that a rugby player's career is fairly short, and he wants to earn as much money as possible, but it has to be balanced up with what's affordable," Rowe added.
"To stay within the salary cap we try and balance our squad by bringing through academy players.
"I think some of the Premiership clubs who don't do that, should look at that.
"Wages have gone up, but they've gone up depending on the club. Some clubs are prepared to let the agents push the wages up, and others aren't.
"But it is a challenge at the moment - there is only so much money in the pot."