Johann van Graan to succeed Rassie Erasmus as Munster coach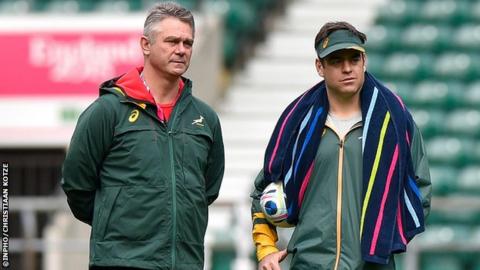 Munster have named South African Johann van Graan as their new head coach.
Van Graan, 37, will join the province in November and has agreed a contract with Munster and the IRFU that will see him take charge until June 2020.
He succeeds his compatriot Rassie Erasmus, who is set to take over as the Springboks' Director of Rugby.
"Johann has proven himself as an outstanding coach and he has a very bright future ahead of him," said SA Rugby CEO Jurie Roux.
Van Graan was first appointed as Springbok forwards coach in 2012 having previously worked at Super Rugby franchise, the Vodacom Bulls.
The announcement last June that Erasmus and defence coach Jacques Nienaber were set to leave Munster and return to South Africa prompted a worldwide search for a suitable replacement.
"Rugby was the focal point of this process and in Johann we are getting a recognised rugby intellectual with a proven track record and extensive experience working with a national side," said Munster Rugby CEO Garrett Fitzgerald.
"An analyst of the game, his technical ability and interpersonal skills have made him an integral member of the South African rugby landscape for over a decade, and it is now time for an ambitious Johann to make an impact in a new rugby environment.
"We know Johann, with forwards coach Jerry Flannery and backline and attack coach, Felix Jones, will continue to establish the structures and processes required to bring this Munster team forward in terms of growth and success."
Smooth transition
The appointment of van Graan will force Munster into a mid season restructuring of their coaching staff but the province say the new head coach will take on the same responsibilities as their outgoing Director of Rugby.
Once he obtains a work permit, which should be approved by mid-November, van Graan will work alongside Erasmus to ensure a smooth transition period.
"I am immensely excited and honoured to join Munster," van Graan said.
"Some of the words I associate with Munster Rugby are passion, excellence, ambition and integrity, and I feel very fortunate to be handed this opportunity. I am looking forward to working with the Munster players, support staff and supporters on this new journey and to become part of their community."
The arrival of such a highly rated and ambitious young coach has been described as "an exciting addition" to Irish rugby by the IRFU Performance Director, David Nucifora, who was also involved in the recruitment process.
SA Rugby CEO Jurie Roux said the chance for van Graan to further his coaching career had proved too great a prospect to turn down.
"The Munster appointment is an excellent opportunity for him to test and prove himself as a head coach in a very competitive European club rugby environment," Roux added.
"I have no doubt that Johann will be successful in his new role and the next chapter of his coaching career. From SA Rugby's side, we would like to wish him and his young family all of the best."