Ireland women: Jenny Murphy critical of part-time coach role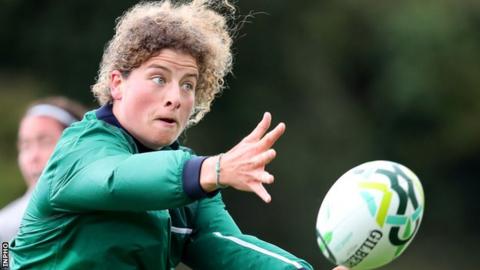 Ireland centre Jenny Murphy says the IRFU's decision to make the role of the next women's coach part-time is a 'kick in the teeth' for the players.
Tom Tierney worked as team coach in a full-time capacity before stepping down following a poor Women's World Cup in Ireland in the summer.
His replacement will operate on a part-time, six-month basis.
"So much progress being made by other nations and we take five steps backwards," tweeted Murphy.
Tierney was appointed as the first full-time coach of the Ireland women's team in 2014 on a three-year deal.
He quit after hosts Ireland could only manage eighth place in the World Cup, meaning they have to qualify for the 2012 tournament.
The IRFU has defended its decision to advertise for a part-time coach.
It said: "The decision to return the coaching role to a part-time basis follows feedback from coaches the IRFU has spoken with, and a further decision on the nature of this role will be completed post the 2018 Six Nations."