Shane Williams warns WRU selection rule change could affect more players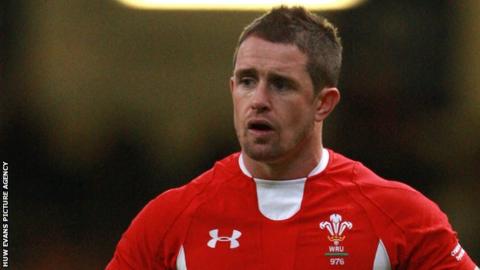 Wales' new selection policy could hamper their 2019 World Cup chances, says record try-scorer Shane Williams.
The rule change means any player taking up a new contract with a team outside Wales must have won 60 caps to be able to play for their country.
That would make scrum-half Rhys Webb ineligible when he joins Toulon.
"It would be very difficult thinking Rhys Webb isn't going to be there [the World Cup] and other players along the line as well," said Williams.
"We've got two years before the World Cup and I'm sure there will be opportunities for other experienced players to go elsewhere."
Webb is Wales' first-choice scrum-half but his 28-cap Wales career is set to end when he moves to France, thanks to the Welsh Rugby Union's (WRU) change in its selection policy.
It was announced on 10 October the British and Irish Lions player would leave Ospreys at the end of this season to join Toulon on a three-year deal.
At the time Toulon said Webb would be able to continue playing for his country as "a fair deal has been found in good faith with regard to its national selection in the interest of both parties".
But this week the WRU announced a major change to its senior international selection policy (SPSP) for players based outside Wales.
Wales' previous SPSP, also known as 'Gatland's Law', allowed head coach Gatland to pick only four players at clubs outside Wales to play for the national side, although there were caveats to that.
That quota was due to drop to just two wildcard picks for the 2019-20 season.
"I can see why the WRU are doing it, of course, we want to keep our best players playing in Wales," Williams told BBC Sport Wales.
"We want the regions to be successful and we want it to be a tight-knit understanding between them both.
"However, it just seems to me the goalposts keep getting moved all the time to suit certain aspects of the game. It's very difficult.
"If I was the Wales coach I'd want to get access to all my Welsh players no matter where they were playing. It's a tough one."