Ruth O'Reilly bemused by move to make Ireland women's coach part-time role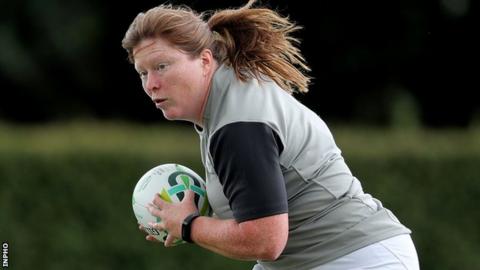 Former Ireland prop Ruth O'Reilly says the decision to make the team's next coach a part-time role makes it "hard to see evidence that the IRFU cares about the women's game".
The IRFU revealed earlier this week Tom Tierney's successor would be appointed on a six-month, part-time basis.
The team have been without a coach since Tierney's exit after the hosts' poor Women's World Cup in August.
"My initial reaction was pretty much disbelief," said O'Reilly.
The IRFU has said that the decision to return the role to a part-time basis "follows feedback from coaches the IRFU has spoken to".
The Irish governing body's statement added that a "further review of the nature of this role will be completed post the 2018 Six Nations".
Decision doesn't speak of 'World Cup legacy'
But speaking in an interview with BBC World Service Radio's Sportsworld, O'Reilly said that the IRFU's decision had been "a complete disappointment".
"All of us realised there was going to be a period of reflection and review following the World Cup and our lack of performance," added O'Reilly, who ended her Ireland career during the tournament after suffering injury.
"But we assumed rightly or wrongly that the IRFU would come out of the blocks strongly on the back of that with a strategy that would really look to propel the women's game forward.
"I think this [job] advert flies in the face of those hopes."
O'Reilly also claimed that the IRFU's decision does not sit well with their stated aims of ensuring a legacy for all aspects of the sport in Ireland as part of their bid to host the 2023 men's Rugby World Cup.
"Let's not completely diss the organisation. They put a huge amount of resources into showcasing the game with their staging of the [women's] World Cup in August and they did a fantastic job with that.
"[But] Part of that remit when hosting a World Cup is legacy and a lot that has been spoken about that in terms of the 2023 bid.
"This does not speak of any legacy if you are appointing a part-time coach."
O'Reilly unhappy with World Cup preparations
After being forced out of Ireland's World Cup squad by injury shortly before the end of the tournament, O'Reilly voiced public concerns in a newspaper interview about the team's preparations for the competition.
"In hindsight, I really wish I had done that beforehand because I realise how futile it is to be saying something after the fact.
"As player, you don't want to be not performing. During the 80 minutes of rugby, we didn't play a great brand [of rugby] but I wanted to highlight that the issues were not just what people were seeing in front of them on the pitch.
"They were other factors at play that I felt did seriously impact on our ability to prepare."
O'Reilly's decision to speak out follows several other recent cases of female athletes publicly airing grievances about treatment within their sports.
"The current movement of [female athletes] speaking out that we are seeing highlights a coming of age," said the former Ireland player.
"A lot of that is to do with the fact we're aren't seeing enough women in the corridors of power, where the decisions are made."
Hosts Ireland went into the tournament with high hopes of at least matching their 2014 performance when they reached the semi-finals in France but an eighth-place finish means they will have to qualify for the 2021 competition.