Cornish Pirates: Matt Bolwell hit by injury as Chris Fuca and Kieran Westlake join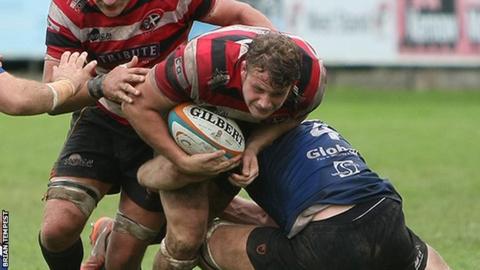 Cornish Pirates are waiting to hear the extent of a knee injury suffered by flanker Matt Bolwell.
The 22-year-old was hurt in the first 20 minutes of Saturday's British and Irish Cup win at Hartpury and had a scan on the injury on Thursday.
"It's such a shame for Matt as he's been tremendous," coach Gavin Cattle told BBC Radio Cornwall.
"He's a really aggressive and committed player, and as coaches we're just waiting for him to have a bit of luck."
Bolwell's injury has seen an already depleted Pirates squad further strained, with the club forced to bring in Redruth flanker Chris Fuca and Camborne's Kieran Westlake on loan to bolster the squad for Sunday's cup tie with Ulster.
Flanker Fuca, 32, has been a stalwart in the Redruth and Cornwall sides for much of the last decade, while 21-year-old centre Westlake is a former Exeter academy player.
It comes after Cattle's fellow coach Alan Paver re-registered himself as a player at the age of 40.
"They're two guys that we trust and who have been in this environment before," Cattle said.
"It's a good opportunity for those guys as well."