British and Irish Cup: Dragons Premiership Select 7-34 Jersey Reds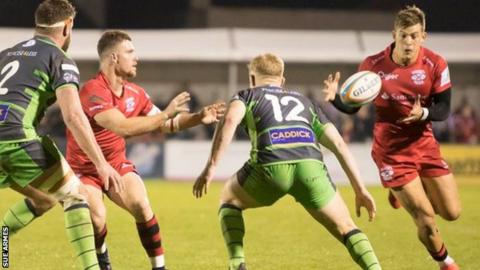 Jersey Reds strengthened their position at the top of their British and Irish Cup group with a commanding bonus-point win over Dragons Premiership Select.
An early penalty try put the Reds ahead but, with Jersey captain Jake Woolmore in the sin-bin, the Welsh side hit back through Rio Dyer's score.
Hooker Nick Selway crashed over to help the visitors to a 12-7 half-time lead.
A further penalty try, after Dragons disrupted a maul, and two Rory Pitman tries secured the Jersey win.
The Reds have taken a maximum 10 points from their opening two fixtures, as they try to repeat last year's B&I Cup run which saw them go all the way to the final - only to lose by a single point against Munster A.
Dragons Premiership Select: Talbot-Davies; Goodchild, Smith, Jones, Dyer; Robson, Leonard; Price (capt), Shipp, Bale, Andrews, Randall, Evans, Hudd, Sheekey.
Replacements; Rees, Lavender, Harris, Skinner, Roach, Leadbeater, Nightingale.
Jersey Reds: Worrall; Pincus, Ma'afu, Best, Hodson; Cope, Hardy; Woolmore (capt), Selway, Atalifo, Sexton, Quarrie, Bartle, Joyce, Pitman.
Replacements: Macfarlane, Brodley, Clarey, Voss, Nagle-Taylor, Dudley, McClurg.