Alhambra Nievas: Female referee hopes to 'create a pathway' for other women
Last updated on .From the section Rugby Union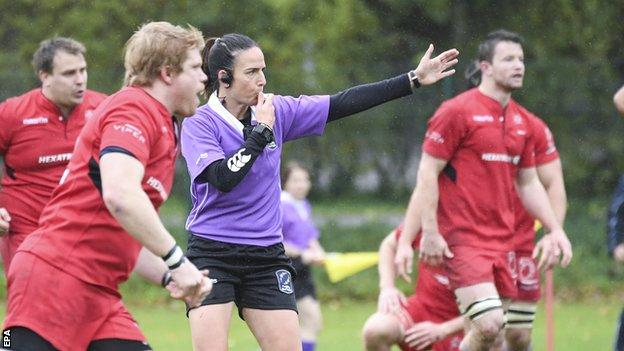 Alhambra Nievas says she hopes to "create a pathway" for other women after becoming the first female referee to take charge of a men's rugby international in Europe.
The Spaniard officiated Finland's 15-8 victory over Norway in the Rugby Europe Championship on 14 October in Helsinki.
Ireland's Joy Neville will oversee Norway against Denmark on 28 October.
"If this is only one game, or once a season, it's not going to work," Nievas told BBC World Service.
"It must be the start of a real pathway for women's refereeing and for more and more women.
"To be the first is not the most important thing, the important thing is that appointments are by merit and not considering gender."
Last year, former Spain international Nievas became the first female match official in a men's Test when she was appointed assistant for USA against Tonga, and was later named Referee of the Year 2016 at the World Rugby Awards.
She also officiated at the rugby sevens at the 2016 Olympics in Rio.
Neville, a Six Nations Grand Slam winner, will become the second female to take charge of a men's game in Europe later this month.
"Joy is doing the next one and she is a great referee," added Nievas.
"I hope more and more colleagues join and one day we won't talk about female referees doing men's games, we will just speak about rugby, performances and referees."
Is the game changing for female referees?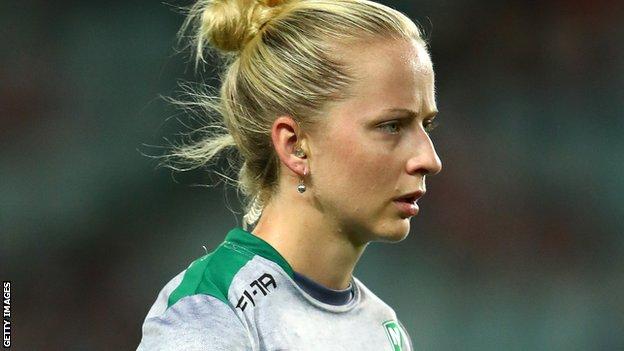 Earlier this month it was announced Australia's Belinda Sleeman will become the first woman to officiate at the Rugby League World Cup.
Sleeman was one of 26 match officials selected for the 2017 tournament, which begins in Melbourne on 27 October.
Sleeman and Kasey Badger were the first female officials appointed to a rugby league finals match - the NRL elimination final between Manly and Penrith - in September.
That same weekend, Bibiana Steinhaus also became the first female referee in the Bundesliga, German football's top division.
On 8 October, Australia's Claire Polosak was the first woman to be an on-field umpire in an Australian men's domestic fixture after officiating between New South Wales and a Cricket Australia XI.
"In rugby, we understand that the process needs to be natural," said Nievas.
"For example Joy Neville, Sara Cox and myself were all refereeing in the European Professional Club Rugby.
"We worked together and trained with our male colleagues - it was nothing different. If people get used to that, there will be nothing to talk about in a few years time."
Get all the latest rugby union news by adding

notifications

in the BBC Sport app.