Gregor Townsend: We can learn from Pep Guardiola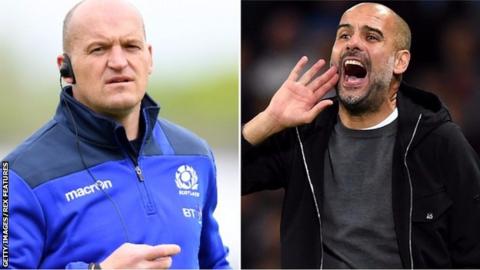 Gregor Townsend has learnt from Manchester City manager Pep Guardiola as he looks to build a Scottish team full of "work-rate, energy and speed".
Townsend is preparing for his first autumn campaign as Scotland head coach, having succeeded Vern Cotter in May.
And the former fly-half says he is inspired by the methods of ex-Barcelona manager Guardiola, who led the Spanish club to 14 trophies in four years.
"Defence and work-rate defines winning teams," Townsend said.
"I believe people watch Guardiola's attack more than his defence," he told BBC Radio 5 live's Rugby Union Weekly podcast.
"But his teams at Barcelona had a rule to win back the ball. They started at seven seconds, and then it went down to three seconds.
"I visited Barcelona a few years back, and they had drills [to make sure] as soon as the ball was lost they were pushing so hard to get that ball back.
"What we see is those three great passes and the goal to win 7-2. What we don't see is how they got the ball in the first place.
"Defence is linked to the attack."
Guardiola's current team Manchester City are top of the Premier League table, having scored 32 goals in nine games - 10 more than any other team in the league.
An attacking-minded player who coached Glasgow to the Pro 12 title in 2015, Townsend has vowed to stay true to his instincts with the national side.
"You've got to build a game plan that helps you win games, that's what the players want," he said.
"If the laws of the game and the strength of the personnel meant [you could win through] kicking and defending, then I would probably - reluctantly - do that.
"But the strength of the Scottish team is work-rate, energy, speed. The laws just now have opened up to help attacks, so attack is a massive part of winning games."
And Townsend says a free-flowing style of play is being encouraged throughout Scottish rugby.
"We have advantages being a small country. We can identify our best players easier and get them to a pro team environment or academy quicker," Townsend explained.
"We are making that advantage count, making sure we have the right development pathways, we are definitely encouraging much more attacking rugby at age-group level now, and putting resources into coaching at that level.
"That has permeated through Scottish rugby, looking to offload, not looking to kick, not worried about the scoreboard at a younger level, and then as you go through the age group, find a way to win."
'We can't restrict ourselves to Scotland'
In a bid to create more strength in depth, the Scottish Rugby Union last week launched the Scottish Qualified (SQ) programme, designed to identify players eligible for Scotland in other countries such as England.
"There are more and more top quality players coming through, but we can't just restrict ourselves to Scotland," former Scotland international Townsend, 44, said.
"There are a number of Scots who leave the country to work in London, to work elsewhere in England, have children, and still feel very Scottish.
"Players that are qualified by birth, or qualified through grandparents, we have to make sure we are aware of who they are and [that] they are aware of the opportunity they have playing for Scotland."
Watching Glasgow as a supporter
Townsend took charge of the national side before the June tour to Australia and the Pacific, and says he has spent the last couple of months in preparation mode, a contrast to the "relentless" life of a club coach.
Scotland face Samoa, New Zealand and Australia in a testing November campaign.
"The last couple of months has been about planning, learning, and watching our players train and play," Townsend added.
"We become better coaches the more rugby we watch, the more organisations we visit and study. But there is also the urge to coach, and we can't wait to get the guys in in a couple of weeks' time.
"I miss coaching Glasgow, I loved my time there, but there has also been time to reflect and get your energy back and to learn a lot more about the game.
"I've enjoyed going to games and not being worried about winning or losing. I've enjoyed going to Glasgow and being a supporter, and watching Edinburgh play.
"I feel I've learnt a lot more in the last couple of months."
Gregor Townsend was speaking to the Rugby Union Weekly podcast, which is available to download on Monday afternoon.