England rugby women pay deal 'a revolution', says coach Simon Middleton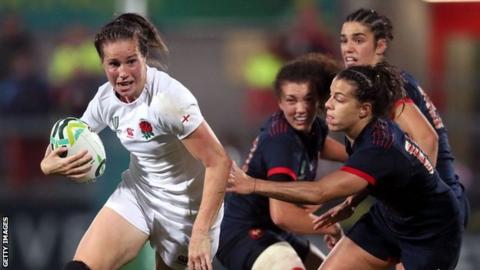 The decision to give England women's team match fees for individual games for the first time has been hailed as a "revolution" by coach Simon Middleton.
In July, the Rugby Football Union (RFU) was criticised after it announced it would not be renewing central contracts for the 15-a-side squad.
But on Thursday the RFU said the 35-strong Elite Player Squad would receive an annual fee and a match fee.
"It's a step towards professionalism in the women's game," said Middleton.
Negotiations over pay have been ongoing since the summer, but the RFU said they are almost at an end.
"It's been a tough process, but we've reached agreement," Middleton told BBC Sport.
"We are 100% behind it. The deal was always coming, it was just a case of what it would look like. It's an unbelievably exciting time.
"It's a revolution in this sport and that's exactly what we want. The girls can genuinely look at the sport now and see it as a genuine way to make a living, and that's how it should be."
Get all the latest rugby union news by adding notifications in the BBC Sport app.