Joe Marler: England and Harlequins prop available earlier after appeal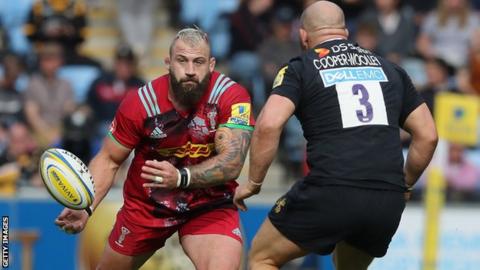 Joe Marler will be available for England's second autumn international against Australia, after the decision to spread his three-week ban over a four-week period was reversed.
Prop Marler was suspended for striking on Wednesday, and a European Professional Club Rugby disciplinary committee originally judged that because of the player's "likely playing commitments" the ban would not include Harlequins' Anglo-Welsh Cup clash with Saracens on 5 November.
Marler was therefore ruled out of matches against Argentina and Australia and not selected in head coach Eddie Jones' squad.
But Harlequins successfully queried the verdict with the European Cup authorities and his suspension will now end on 12 November.
Marler will be free to face the Wallabies on 18 November, if selected.
England head coach Jones confirmed on Thursday he has the flexibility to draft players into his squad at any point throughout the campaign.
Jones' side play Argentina on 11 November, Australia on 18 November and Samoa on 25 November.
The original decision not to include the Anglo-Welsh game as part of Marler's ban was met with confusion, especially as the opposite applied to Wasps number eight Nathan Hughes.
Hughes' two-week ban for a dangerous tackle included the weekend of 4-5 November, and therefore he is available for all three of England's autumn Tests.
When Marler was left out of the England squad, Harlequins director of rugby John Kingston submitted further information to the independent disciplinary committee.
He informed them that Marler would be selected for the club's Anglo-Welsh Cup matches on 5 November and 12 November and the committee was satisfied that the weekend of 4-5 November should be included within the period of suspension.
Analysis
BBC Radio 5 live rugby union reporter Chris Jones
Rugby union bans are done in weeks because - in effect - the number of weeks are the same as the number of games. But authorities are keen for the matches a player is banned for to be meaningful.
This issue came up in the summer when New Zealand Rugby argued successfully - and controversially - that a glorified trial match counted as part of a ban for All Blacks star Sonny Bill Williams.
In this case, the panel was correct that Marler was always highly unlikely to feature in the Anglo-Welsh Cup, but they have also made a presumption about his international and club commitments - and then showed no consistency by doing the exact opposite for Nathan Hughes.
Therefore it's little surprise this decision has been reversed and Marler is free to play a week earlier than previously.
The disciplinary committee also confirmed: "For the avoidance of doubt, the committee would not have altered its determination as to the appropriate period of suspension for Marler solely in light of the Hughes decision."