2019 Rugby World Cup: Scotland open against Ireland in Japan
Last updated on .From the section Scottish Rugby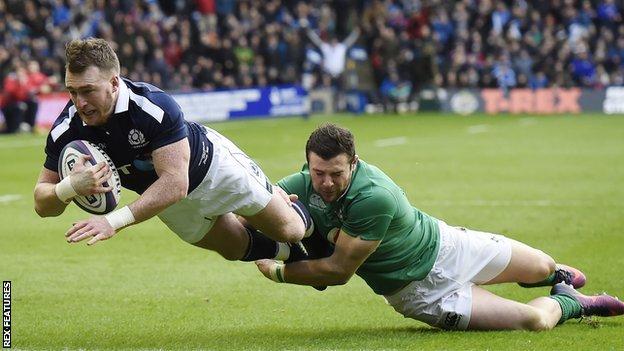 Scotland will play Ireland in their opening match of the 2019 Rugby World Cup finals in Japan.
The Pool A match will take place in Yokohama on 22 September after the schedule was announced on Thursday.
Gregor Townsend's men will then face two as yet unknown sides as qualification for the tournament is still ongoing.
Their final group game will be against the hosts only four days after Scotland's penultimate match.
Townsend said: "Obviously there's a lot of excitement that comes with knowing who you're playing, when and at what venues.
"We'll face a real challenge in all of our games, starting with Ireland, who are currently ranked fourth in the World Rugby rankings.
"Facing Ireland in the opening round really focuses the mind on just how big a challenge this tournament is going to be, on top of the prospect of facing the hosts, who had a brilliant World Cup in 2015."
Japan open the tournament against the top qualifiers from Europe at Tokyo Stadium on Friday 20 September.
Following the Sunday match against Ireland at International Stadium, the Scots, on Monday 30 September at Noevir Stadium, Kobe, take on the side who will have qualified via a play off between a team from Europe and rivals from Oceania.
The Europe 1 qualifiers are the next to face Townsend's side, on Wednesday 9 October at Shizuoka Stadium in Fukuroi City.
Whoever wins Pool A will face the runner-up from Pool B, which includes New Zealand, South Africa and Italy.
The runner-up from Pool A will take on the winner of Pool B.
"The tournament is very much on the horizon for our players and staff," added Townsend.
"The important thing will be to continue building and improving over the next two years."
Scotland's 2019 Rugby World Cup schedule
22 September: v Ireland, International Stadium, Yokohama (kick-off 16:45)
30 September: v Play-off winners, Noevir Stadium, Kobe (kick-off 19:15)
9 October: v Europe 1 qualifiers, Shizuoka Stadium, Fukuroi City (kick-off 16:15)
13 October: v Japan, International Stadium, Yokohama (kick-off 19:45)
Quarter-finals
Saturday 19 October: Pool B winner v Pool A runner-up, Tokyo Stadium (kick-off 19.15)
Sunday 20 October: Pool A winner v Pool B runner-up, Tokyo Stadium (kick-off 19.15)
Semi-finals
Saturday 26 October and Sunday 27 October, International Stadium, Yokohama (kick-off 18:00)
Bronze final
Friday 1 November, International Stadium, Yokohama (kick-off 18:00)
Final
Saturday 2 November, International Stadium, Yokohama (kick-off 18:00)