Edinburgh coach Richard Cockerill: 'This team just have to go out and play'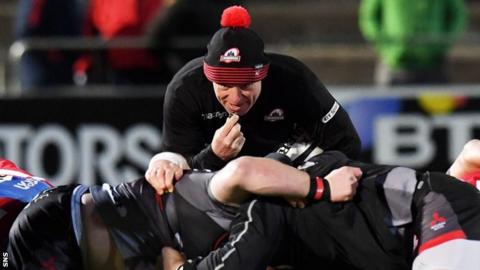 Head coach Richard Cockerill admits he has had to adopt a different mindset in order to get the best out of his Edinburgh players.
After a 37-10 win over Ospreys on Saturday, Edinburgh have won their last five matches in all competitions.
Cockerill says, unlike in his previous coaching roles, he has prioritised performances over winning.
"The thing I've learned about this team is they just have to go out and play," he told BBC Scotland.
"We're not worried about winning or losing, we're just worried about playing well and putting the best performance out on the field as we can.
"If we do that, we'll probably get more results than not."
Englishman Cockerill took over this summer having spent five months at French giants Toulon following 12 years at Leicester Tigers.
"It's a bit different for me," he said. "I've always probably coached a group of players where it's all about winning, making sure you work under pressure.
"These guys work under different pressures, but we've just got to keep growing the group from a playing point of view and their skill sets.
"We can still play better but I'm delighted with the win."
Tries from Blair Kinghorn, Nathan Fowles and Jason Tovey gave Edinburgh complete control against Ospreys at Myreside after a rocky start in which they fell behind.
Magnus Bradbury, making his first appearance since being stripped of the club captaincy after suffering a head injury on a night out, came off the bench to crash over at the death and seal a bonus-point win for his side.
Cockerill was thrilled to have Bradbury back in the fold, and took great satisfaction in his team's overall performance.
"I've never had any complaints with Magnus' attitude, his mindset around playing," he said.
"It was great to get him back on the field. He's obviously got a bit of ground to make up with the squad.
"I thought you saw that with the way he came on and the impact that he made.
"We showed some real character. We're starting to turn the corner in that regard, last week and then this week.
"We seem to be able to stay in the game even when things go against us, so that's really pleasing.
"That second half is probably the best rugby we've played in a very long time. It's been coming."
Edinburgh now have a two-week break as they prepare to travel to South Africa for Pro14 meetings with Cheetahs and Southern Kings.
"I'm delighted now we have a few days to have a little bit of downtime, not too much, as we know our lads can't behave themselves when they're away from the place," Cockerill joked.
"We're improving, we're getting better. The minute you think you've solved it is the minute you'll get smacked on the backside.
"We know we've got tough games against Cheetahs and Kings. We'll have two weeks' prep to get to Cheetahs.
"Whoever we've got to pick, we'll take and we'll do our best to try and get some results out there."