Jersey Athletic: Island's second team aims for place in English rugby league structure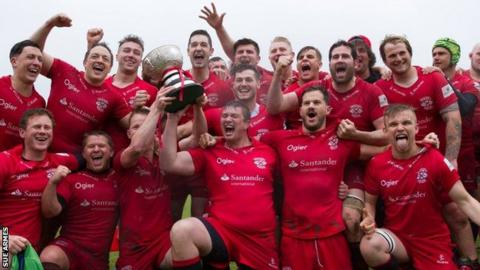 Jersey Rugby's second team are bidding to join the English league system.
Jersey Athletic currently play in the Zoo Shield - an event for second teams.
Since Jersey went professional and moved up the English rugby system - they are currently in the Championship - opportunities for local players to make the first team have been limited.
"What we're looking for is to give our guys the opportunity to fight for promotion," chairman Mark Morgan told BBC Radio Jersey.
Present rules prevent clubs from having two teams in the national league structure.
"There are ways to circumvent that and it's what we're looking for," added Morgan.
"It gives the guys a little bit more to fight for and as we look at how we bring the guys through from our minis, juniors and colts, playing at an appropriate level of amateur rugby would be great for the team."
Local players edged out
Jersey brought in their first professionals in 2006 and gradually fewer islanders got a chance to make the first XV as they moved up the league pyramid - only James Voss in the current squad has come through Jersey's academy.
The island side played at what is now known London and South East Premier level and that is the sort of standard Morgan wants Athletic to play at.
"We've had discussions with the Rugby Football Union (RFU) development guys recently and we said we would not go to the basement and start right from there, it doesn't make any sense," he said.
"Apparently that is not a requirement any longer and they can look at us starting higher up.
"It's really a question of gauging and finding out where we fit and then getting the support of the appropriate regional union.
"It's early days, but we've got the right noises coming out of the RFU and I hope to have some news on it in the next month or two.
"If we can get the right fit, it could potentially be for next season, which would be quite exciting all round."