World Rugby: Governing body announces reforms to add more women on council
Last updated on .From the section Rugby Union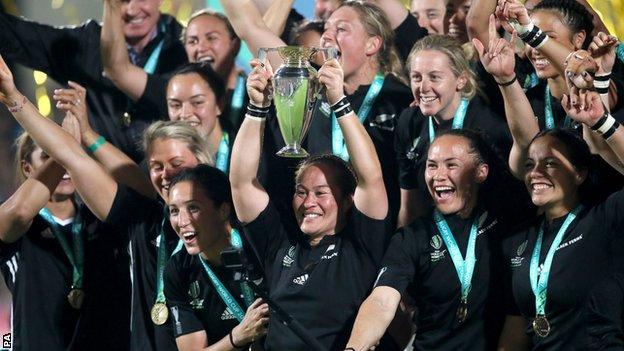 Reforms that will "accelerate the global development of women" in the game have been announced by rugby union's world governing body.
World Rugby is to expand the number of positions on its council - recently all held by men - from 32 to 49, with the 17 new roles to be taken by women.
It is aiming for "at least one-third women's representation from 2018".
Chairman Bill Beaumont described the reforms as "historic, reflective of our ambitions and long overdue".
World Rugby ratified the changes at the same time as its 2017-25 Women's Plan, a long-term strategy to "significantly increase involvement and interest" in the women's game.
Beaumont added: "If we are to promote and nurture the growth of women in rugby then change must be led from the top.
"It is clearly a fantastic start and opens the door to even greater female representation in council and across rugby in the future."
Ada Milby, secretary general of the Philippine Rugby Football Union, became the first woman to be appointed under the reforms, having been elected by Asia Rugby at the weekend.
She said: "Not only does this reflect the drive for women's leadership to be accepted at all levels of the game, but it is a strong statement and call to action for other sporting codes to show that when you are fully committed to gender inclusion, the solutions may manifest in ways not previously considered."