Ulster scrum-half Paul Marshall reveals two-year-old son's cancer diagnosis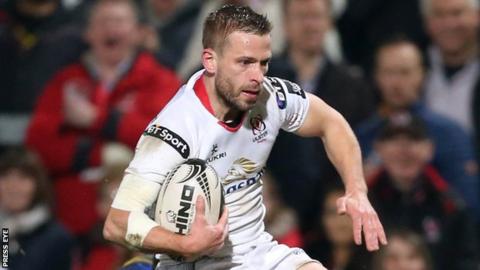 Ulster scrum-half Paul Marshall has spoken of the anguish he felt after being told his two-year-old son Luke had cancer.
Marshall, 32, became only the fifth player to make 200 Ulster appearances when he faced Benetton on Friday.
That came after three months after the shock of his son's cancer diagnosis.
"The first week of the season my son Luke got diagnosed with a form of cancer which came completely out of the blue," said Marshall.
Speaking to the club's website he added: "For the first part of the season I've been away quite a bit because I've had to deal with things at home.
I'm really thankful to Bryn [Cunningham] and Les [Kiss] and the whole organisation."
Marshalls lauds son's medical treatment
Luke Marshall is receiving ongoing treatment at the Royal Belfast Hospital for Sick Children and his father says the medical staff have been "absolutely amazing".
"It was his second birthday on Thursday and I got my 200th game for Ulster on Friday so it was a nice couple of days for us as a family," he added.
"My family has sacrificed so much to help me in my career.
"It's at times like this that you realise how much your wife does, especially when you're on away trips and she's running around after a couple of kids at home."
Rugby action a 'stress reliever'
Marshall says his appearances for Ulster this season have been something of a "stress reliever"
"Usually you're trying to get away from rugby, whereas rugby has probably allowed me to switch off from other things that have been going on."
Marshall was introduced as a replacement for Friday's win over the Italians at Kingspan Stadium and played a crucial role in setting up Andrew Trimble's late match-winning try.
"My 100th game was away and my 150th game was away, so it was nice to get my 200th cap at home in front of friends and family and it was even better to mark the occasion with a win."
Marshall signed his first contract with Ulster in 2006 after rising through the ranks at the Irish province's academy.
The scrum-half won his three Ireland caps in 2013 but despite offers to play abroad, he has been content to remain with his native province.