Munster determined to keep Ireland lock Peter O'Mahony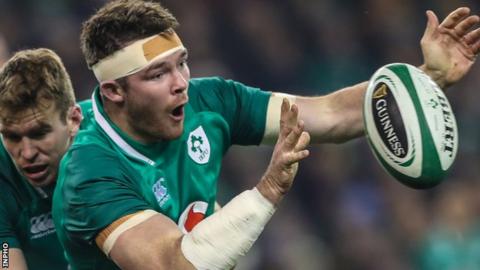 British and Irish Lions captain Peter O'Mahony is in talks about his future with Munster and Ireland beyond the 2019 Rugby World Cup.
The Irish Times is reporting O'Mahony, whose current contract expires in July, has rejected the IRFU's offer to retain his services beyond the 2019 World Cup.
New Munster head coach Johann Van Graan said on Tuesday he will do everything in his power to keep O'Mahony at home.
"Hopefully that [move abroad] is not a done deal," he said.
"He's contracted to the IRFU until the end of the season.
"He's been offered a contract extension with some added benefits and I believe it's in the best interests of Munster rugby and of the IRFU to keep him at Munster and Ireland."
French and English clubs are aware of O'Mahony's availability.
The 28-year-old's team-mate Simon Zebo is swapping the Irish set-up for a lucrative move to France next season.
Zebo's announcement led to his omission from Ireland's autumn internationals.
Losing O'Mahony would be a considerable blow for new coach Van Graan in his early days at the club.
The South African says the prospect of losing players is an issue that all clubs must contend with, but vowed to do whatever he can to persuade O'Mahony to remain with Munster.
"It's a concern for clubs all around the world losing players to England and France. Special players win big games and trophies.
"He's our club captain and if I could in any way be able to keep him at Munster and within Ireland until the World Cup, I'll do everything in my power to do that.
"The good thing is I'm coming from a country where a lot of players have left. You'll never keep all your players, that's just the way of professional rugby.
"I think if you look at the trend in professional sport at this stage people are moving. I'd love to keep everyone at Munster for as long as possible.
"It's an opportunity for new stars to be born but at this stage, hopefully Pete will stay."