Ross Moriarty 'still a part of Gloucester' despite Dragons deal, says Johan Ackermann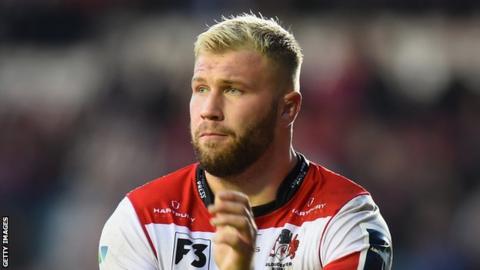 Gloucester boss Johan Ackermann says Ross Moriarty can still make an impact, despite agreeing a move to Dragons.
Moriarty, 23, will join the Welsh side at the end of the 2017-18 season on a two-year contract.
Uncertainty and speculation over the Wales international's future caused difficulties between player and coach, but with his departure now confirmed Ackermann is keen to focus on rugby.
"I think both him as an individual and we as a club can move on now," he said.
"While I'm here he's a part of us and we'll treat him with the utmost respect and he can still make a huge difference for us in our team."
Moriarty, whose Gloucester contract runs out at the end of the campaign, has criticised the way the club have handled his future on social media.
Head coach Ackermann complained last week that Moriarty had not come and see him regarding a new deal, but insisted issues between them have now been resolved.
"We're on the same page," he said. "If you've been at a company or a business for a long time obviously there will be emotions involved when you leave."
Gloucester, who have won their last four Premiership games, are now trying to get the back-row forward fit.
Moriarty has played just once since injury forced him out of the British and Irish Lions tour to New Zealand in July, with a sore hamstring and back hampering his progress.
"The moment we get him 100% fit, like any other player, he has to work and earn his place back in the team," Ackermann added.