New Zealand's Rieko Ioane is 'reminiscent of all-time greats'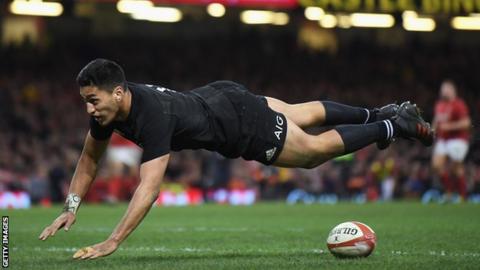 New Zealand wing Rieko Ioane is reminiscent of some of the all-time greats of the game, says All Blacks' record try-scorer Doug Howlett.
Ioane won World Rugby Breakthrough Player of the Year at the weekend, shortly after scoring two tries as New Zealand overwhelmed Wales in Cardiff.
And Howlett says the 20-year-old has the potential to be a special player.
"He has elements of all great All Black wingers," Howlett told the Rugby Union Weekly podcast.
"He can move like Christian Cullen, he has the strength of a Jonah [Lomu], and he can pass and play the ball like a Tana Umaga.
"He's had an exceptional season."
World-class Kiwi wingers
Ioane is the latest on the production line of world-class Kiwi wingers, replacing Julian Savea in the New Zealand side ahead of the summer series against the British and Irish Lions.
Savea scored a remarkable 46 tries in 54 Tests, and Howlett - who is head of commercial and marketing at Munster - revealed how he has tried to bring him to Limerick.
"I've tried to talk Munster into signing Julian Savea," Howlett said. "But it wasn't to be - at the moment it's not a position we are looking for.
"It's not in my job description, but with my track record and understanding of the New Zealand environment, I am asked my opinion."
'We have our hands full retaining our talent'
Howlett, who holds the All Blacks try-scoring record with 49, has also revealed how important it is that Munster keep captain Peter O'Mahony at Thomond Park beyond the current season.
The flanker, who captained the British and Irish Lions in the first Test against the All Blacks, is considering his options outside Ireland.
"Our business model is built on homegrown talent here at Munster. So we have our hands full retaining our talent," Howlett added.
"Simon Zebo moving to France was difficult to take, but we are working behind the scenes to make our business model work.
"It's critical we keep Peter. He is a key player for us and a key player for the region, and somebody that young kids aspire to be, so he is important for all sorts of reasons.
"At the same time we are trying to develop talent, and that pipeline beneath our marquee players.
"Although we are really sad to see Simon go, we have unearthed Andrew Conway and young Darren Sweetnam, who is now in the Irish set-up.
"It is a big wheel that keeps on turning."
Hear the full interview with Doug Howlett on the Rugby Union Weekly podcast out now