Finn Russell: Racing 92 fans will love Scotland 'class act' - Stuart Hogg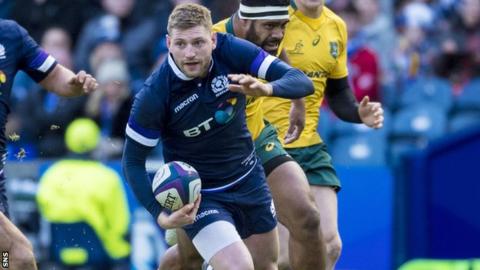 Fly-half Finn Russell will become a big hit with Racing 92 when he joins the wealthy Parisian outfit next season, says Scotland team-mate Stuart Hogg.
Glasgow Warriors' Russell will move to France next summer on a deal believed to be worth around £700,000 per season.
He will contest the number 10 shirt with South African Pat Lambie, with New Zealand great Dan Carter departing for Kobe Steelers in Japan.
"Finn is a bit different; I am sure the French will love him," Hogg said.
"He will suit that way of playing, a bit kamikaze at times.
"Sometimes it is a good thing that you don't know what he is going to pull out on the pitch. You have just got to follow him, see what happens and hope for the best.
"But he is a class act. I am chuffed to bits for him."
Despite concerns that Russell, 25, will have a heavier playing schedule in the Top 14 that might affect Scotland, Warriors team-mate Hogg believes the move can benefit the national team.
"He is only going to get better and better, learning off a different group of players and coaches," Hogg, 25, told BBC Scotland.
"Hopefully, he can bring that back to Scotland as well and that will improve us too.
"We have just got to look forward to having him with Glasgow for the rest of the season and for Scotland. Hopefully, he can finish off the season on a high.
"Finn is a fantastic player and a brilliant guy. He fully deserves his new contract over there."
Russell, a key cog in Scotland's high-tempo game plan, says he will relish the "great challenge" of trying to fill Carter's boots in Paris.
"I've played against Dan a few times and he's still one of the best players in the world," Russell told the French club's website.
"He's achieved great things here and I sense the love they have for him here. I hadn't given any thought to him leaving. I thought maybe he'd still be here. I would've learned a lot from him.
"For me, coming here to challenge Pat Lambie to take Dan's spot is going to be a great challenge, really rewarding. I can't wait."
Russell admits his French is currently restricted to little more than "bonjour, ca va - the easy stuff", but is taking classes to learn as much as possible before arriving.
"I've been lucky enough to play for six years at Glasgow," he added. "But for me, for my development, I felt it was time for a change of environment.
"Like every player, my aim is to win - I want to win titles with Racing. It's a club determined to reach and win as many finals as possible. And they're well capable of doing so.
"That's my main goal and Racing are definitely good enough to win the Champions Cup or the Top 14. I can't wait to help them do that."