Sam Matavesi: Cornish Pirates forward happy to balance Royal Navy career with rugby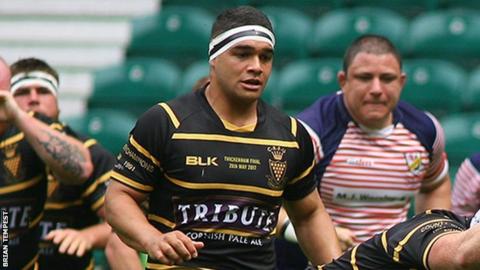 New Cornish Pirates signing Sam Matavesi says he is pleased to be able to balance his career with rugby.
The 25-year-old joined the Navy earlier this year and will play part time for the Championship club as he balances rugby with his work at RNAS Culdrose.
He was previously a professional at Plymouth Albion and had time at Racing Metro, as well as playing for Fiji.
"At the start of the year it was felt I had to put the Navy first before I played rugby," Matavesi told BBC Sport.
Matavesi, who works in logistics in the Navy, had been playing for National Two South side Redruth.
But now he has finished his training, he felt it was time to see if he could commit more time to playing rugby.
"I've really enjoyed the start of the season with Redruth," Matavesi said.
"It's been perfect but when this opportunity came through, it was 'let's try and get it done straight away'.
"It's a chance to have a crack at that level. Now the Navy have Ok-ed it part time, it's all I ever wanted to do," added the forward, who made his first appearance for the Royal Navy at Twickenham in May when they lost 29-20 to the Army.
Matavesi's father Sireli settled in Cornwall after touring the UK with a Fijian side in 1985 and raised three boys who all play rugby - Sam's brothers Josh and Joel play for Premiership side Newcastle.
And he has not given up of one day adding to his three caps for his father's homeland.
"You don't ever want to put it to bed and say no," he said.
"But for the time being I'm just focusing on working hard for the Pirates and the Navy, certainly this season, but we'll see what happens."