Lloyd Williams: Wales scrum-half signs new Cardiff Blues contract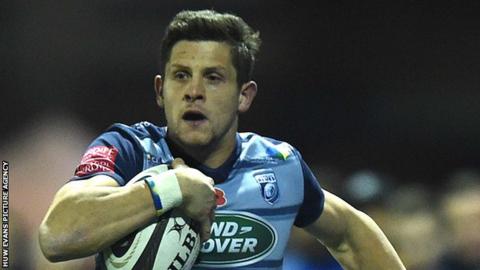 Wales scrum-half Lloyd Williams has signed a new contract with Cardiff Blues after rejecting offers elsewhere.
The 28-year-old said the Welsh Rugby Union's new selection policy had a bearing on his decision to stay.
There was interest from teams in Wales and abroad but Williams wanted to stay in his homeland in order to have a chance of adding to his 28 caps.
"I was speaking to a few others but I always wanted to remain in Wales and I'm happy here at the club," he said.
"You always have to keep your options open. If that rule didn't come in, there could be other things to take into account. I'd still have been in favour of staying here even if that rule wasn't in place.
"It was always the case if I was staying in Wales I was staying with Cardiff Blues.
"There was [interest] but I didn't really get too far down the line with any of them."
In future any player taking up a new contract with a team outside Wales must have won 60 caps to be eligible to play for the national team.
Players who are already playing outside Wales will be exempt, but this exemption will not extend to new contracts that have already been agreed by players for the 2017-18 season.
Williams believes the rule should be altered so there is an exemption for players who have made a certain amount of appearances for Welsh regions.
"I think it should be tweaked. I can't see why the regions would want that," he added.
"As a player, once you've played 150 or 200 [regional] games, you've showed loyalty towards Wales.
"It could potentially be tweaked so we'll see how that unfolds but they [WRU] seem pretty set on this new rule to try and keep all the best players in Wales.
"I've got some of my best mates alongside me [at Cardiff Blues]. I feel it's a strong team and there's a lot of optimism around the club.
"Hopefully that can continue next season and the years to come."