Glasgow 22-29 Montpellier: George Turner's yellow card cost Warriors, says Dave Rennie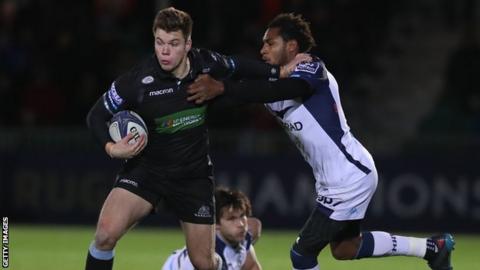 Dave Rennie says George Turner's "dumb" yellow card cost Glasgow in their 29-22 Champions Cup loss to Montpellier.
With Warriors leading 17-5, the hooker was sin-binned in the 28th minute for an off-the-ball shoulder charge to the back of Louis Picamoles.
Glasgow are effectively out of Europe after the French side handed them a third straight Pool 3 defeat.
"We started pretty well; George's sin-bin was dumb," head coach Rennie told BBC Scotland.
"Leading by 12, we should've had a line-out 20m out to apply more pressure and instead he ends up in the bin, and three minutes later they've scored."
Upon Turner's re-introduction, Glasgow's lead had been cut to five points, and the hosts were defending a line-out five metres from their own try-line in the Scotstoun clash.
Lock Jonny Gray was judged to have collapsed the Montpellier maul that ensued, with referee Matthew Carley awarding a penalty try and showing Gray a yellow card.
'Our ball retention was woeful'
"They scored again by half-time, and we've got another one in the bin," Rennie continued. "They scored 21 points while we had guys in the bin and we lost by seven.
"But even with that, our ball retention was woeful tonight. Just too manic, chasing the game, 30 minutes out we could barely go beyond one phase and we'd turn it over.
"For us to put Montpellier under pressure, we needed to build phases and try and run them off their feet, but we tried to run around them all night and came unstuck."
Under New Zealander Rennie, Glasgow have won all 10 of their Pro14 matches since he took charge this summer.
The 54-year-old stressed the need for Warriors to vary their attack, and make more frequent use of their hard-running forwards to make inroads in the opposition defence.
"We've talked about Europe and you've got to have attacking balance," Rennie said.
"We have to be prepared to go through the middle a couple of phases and then use it. Really, we're tying to run around them all day.
"That's the thing with this competition - there's more pressure. They brought a lot of line speed outside [fly-half] Finn Russell and tried to force him back in, and we should have tried to expose them in that area.
"But we still tried to go outside them and made errors. Another tough lesson, and really Europe is over for us."
Glasgow travel to France to take on Montpellier again next weekend in their fourth pool outing, ahead of two derby showdowns with inter-city rivals Edinburgh on 23 and 30 December.
"I guess we won't have players overdone in regards to playing in two competitions; we'll reassess what our team looks like next week," Rennie reflected.
"We certainly won't be taking a second string team over [to France], but we'll have in the back of our mind the fact that we've got to make sure we've got a good side against Edinburgh on the field in the next couple of weeks."