Jacob Stockdale enjoying 'a dream come true' with Ulster and Ireland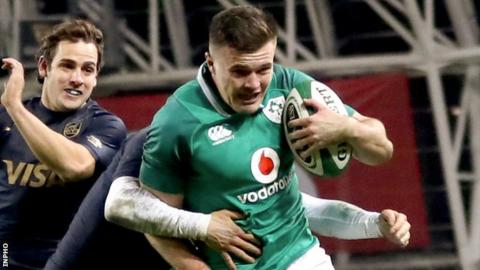 Ireland's new wing sensation Jacob Stockdale says playing in front of capacity crowds for Ireland and Ulster is "a dream come true".
The 21-year-old has scored four tries in four appearances for Ireland and six tries for Ulster already this season.
"I love playing rugby. Once I'm on the pitch I don't feel pressure. I focus on what I'm doing," said Stockdale.
"I'm in the public eye a lot more, which I don't enjoy so much, but you have to take the good with the bad."
The former Ireland Under-20 international scored a try on his senior debut in the green shirt against the United States in New Jersey in June.
He subsequently underlined his international credentials by crossing in the 38-3 win over South Africa which began Ireland's autumn series and then showed electrifying speed to touch down twice in the 28-19 victory over Argentina two weeks later.
"Being able to run out and score tries in front of nearly 20,000 Ulster fans in Belfast or 50,000 Ireland supporters in Dublin is genuinely a dream come true," said Stockdale.
"I have goals I can work towards for the next three or four years and I want to play in the next World Cup, then I'll see where things go from there."
Ulster head coach Jono Gibbes belives Stockdale has "a natural talent and a bright future in the game".
"In a professional rugby environment you have to hone and nurture that talent and knuckle down and work hard," said the former Leinster and Clermont Auvergne forwards coach.
"He's be the first guy to say he benefits from the work of other people who create space for him and he contributes to provide time and space for others as well."