Ospreys under pressure to maintain good form, says Steve Tandy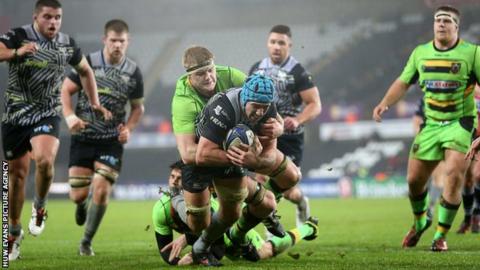 Ospreys coach Steve Tandy believes back-to-back wins against Northampton mean his team are under pressure to deliver in their remaining European Champions Cup pool matches.
The Welsh region are second in Pool Two after their 32-15 win against Saints.
They face holders Saracens at home and Clermont Auvergne away in January.
"When everybody writes you off in Europe you go out with a little bit more freedom. Now there's a little bit more pressure on us," Tandy said.
"If we beat Saracens we could knock them out and it's just how we keep our calm and control under that kind of pressure."
Ospreys were unfancied going into the pool which included three former Champions Cup winners and both teams who contested last season's final when Saracens beat Clermont.
After losing their opening two matches they were practically written off, but two bonus point wins against Saints and Clermont completing the double over Sarries has brought the Welsh region back into the qualifying mix.
Only the five pool winners are guaranteed a quarter-final place, but there are places for the the three best runners-up.
And after registering back-to-back wins for the first time this season, Tandy believes the way his team has recovered after disastrous early-season form in the Pro14 is a testament to the spirit in the squad.
Champions Cup Pool Two
Team
P
W
D
L
F
A
Bonus
Pts
Clermont
4
4
0
0
120
63
2
18
Ospreys
4
2
0
2
130
109
5
13
Saracens
4
2
0
2
128
117
3
11
N'hampton
4
0
0
4
67
156
1
1
"Bringing Saracens here in Europe, knowing the fact we've still got a chance to get to a quarter-final, says everything about this playing group," he said.
Saracens' 24-21 loss in Clermont was their seventh consecutive defeat in all competitions, but they beat Ospreys 36-34 when the teams met in November.
Ospreys skipper Alun Wyn Jones sounded a note of caution after another powerful personal performance against Northampton.
"Whenever the pools come out we're always in a pool of death," he said.
"But we've got an opportunity now, and that's all it is.
"It's not written in stone and knowing some of the players in that Saracens side they're going to want to turn around this run of results in the next round.
"So we can't get ahead of ourselves, but there's no reason we can't be positive going into those final rounds of fixtures."