Alan Paver: Cornish Pirates coach makes rare start in British and Irish Cup win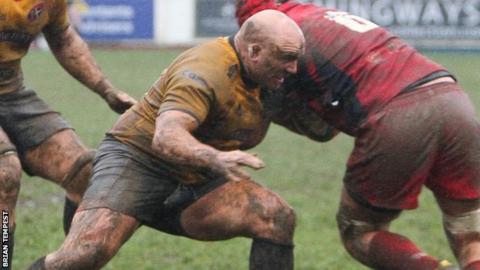 Cornish Pirates coach Alan Paver says a much-improved forwards' performance was the key to his side's 38-19 win over Scarlets in the British and Irish Cup.
Paver, 40, played for an hour in his first appearance since February as the Pirates went level with Ulster 'A' at the top of their pool on 14 points.
"They've been in every day and been going home very late," said Paver.
"We've done it old-school. We've put the analysis to one side and we just got dirty."
Paver had last started a game for Cornish Pirates in April 2016, but with a number of injuries he was forced to dust off his boots.
"It was not too bad. Just as I remember, like mowing an old lawn," he told BBC Radio Cornwall.
"It was lovely to run around, but those guys are far better than me now.
"The training they go through and the detail that they can retain is far beyond what I can do out there.
"I still have a few tricks and I can still get through the work, but if they're fit they'll play."
Paver joked that he could yet end up playing for many more years.
He said: "At the age of 33 asked Ian Davies (the then Pirates head coach) if it was OK to switch from loosehead to tighthead and they said 'OK, have a go of it'.
"Now at the age of 40, I went from tighthead back to loosehead so who knows, in another five years I might go to hooker - 45 at hooker, 50 on the wing, you never know."