Champions Cup: Exeter can still go through to knock out stages, says boss Rob Baxter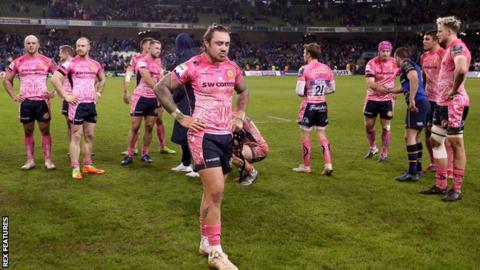 Exeter boss Rob Baxter has not given up hope of his side making the knockout stages of the Champions Cup.
The Chiefs lost for the second successive week to Leinster and are now third in their pool.
"We've got a couple of games left yet, we'll go for them flat out and we'll see what the pool brings," Baxter said.
"We've qualified before in some extraordinary circumstances and more extraordinary than the circumstances that we're in at the moment."
The reigning English champions have only made it out of the pool stages once in Europe's premier competition.
That time - two seasons ago - they went through on the final day after all four sides ended with three wins and three defeats from their six games.
"The important thing for me is to make sure that as a group of players they get ready on Monday to draw a deep breath and put a line under the European cup and move forward," added Baxter.
"The age range and experience range of the squad says to me that we should get better, the boys should be better from today. This experience should move you forward if you're prepared to work hard on the things you need to work on.
"The one thing that we'll probably be frustrated with when we break it down and analyse the game is that under that pressure some of our weaknesses got exposed.
"Any players basic weaknesses, or the things they need to work on on their game, get highlighted and expanded at the higher level. You see good club players start to make mistakes in internationals that they don't make in club games.
"We made some mistakes that we haven't made in some other games this season, but that's what you play for, that's why you play in as higher level competition as you can."