Wayne Barnes set to break Premiership refereeing record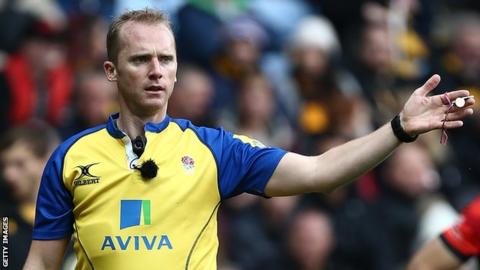 Wayne Barnes will break the record for the most Premiership games refereed when he takes charge of Worcester's match against London Irish on Friday.
The 38-year-old Englishman will surpass Chris White, who officiated 190 league games between 1997 and 2011, on the all-time list.
Barnes turned professional in 2005 and has overseen seven Premiership finals since 2008.
He has refereed at three World Cups and been in the middle for 77 Tests.
"In the last 15 years Wayne has arguably become the number one referee in world rugby," Premiership Rugby rugby director Phil Winstanley said.
"We're fortunate to have Wayne plying his trade in the Premiership each week and the quality of his performance rarely waivers.
"He is held in high regard by players and coaches alike."