George North: WRU chief confirms all four regions want Wales wing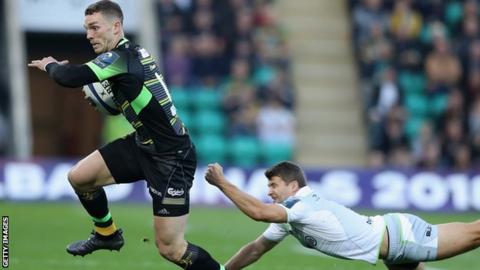 Welsh Rugby Union chief executive Martyn Phillips has revealed all four regions have expressed an interest in signing George North.
The British and Irish Lions wing, 25, will return to Wales next season from Northampton but it is yet to be announced which region he will join.
The Scarlets will have the first chance to talk to North because that was the region he left to join the Saints.
"There's been expressions of interest from all four regions," Phillips said.
Under the Rugby Services Agreement between the four Welsh regions and WRU, the home region has first chance to sign North.
However, the player and region will both need to sanction the move, meaning that while the Scarlets have a negotiating advantage the ultimate decision rests with the player.
"The key thing was to get George back because there was a lot of interest and we wanted to get him off the market," said Phillips. "George was keen to come back to Wales.
"He came from the Scarlets, which was his region of origin, so the first discussion always has to be with them.
"They may choose to do a deal but if they don't the other three regions will come into play.
"We would arrange for those discussions.
"I hope the early conversations will happen in the early part of next year and a decision will be made."
No fretting on Gatland future
Phillips has also dismissed comments from Northampton benefactor Sir Keith Barwell that they would be talking to Wales coach Warren Gatland, who is contracted until the end of the 2019 World Cup.
"I didn't lose a beat if I'm honest," he said. "He's going to get linked with all sorts of jobs isn't he, because he's one of the top coaches in the world.
"When you come down to a list of who really are the proven top-class coaches, those that are will get talked about a lot.
"I would like to believe he will be here for the World Cup. It comes up a lot.
"He is one of the highest profile, most experienced coaches in the world and gets linked with quite a few things and I tend not to get to distracted by it."
Phillips also confirmed Wales will play a match in the USA in June 2018 on the way out to two Tests in Argentina, although he did not reveal the opposition - who he said would not be the USA.