Old-school Richard Cockerill brings hunger and home truths to Edinburgh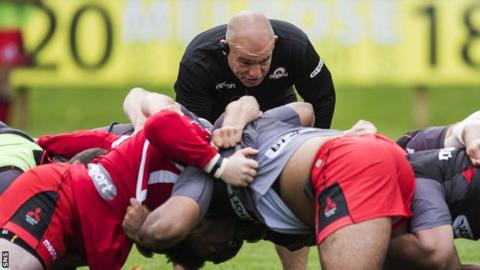 Pro14: Edinburgh v Glasgow Warriors
Venue: Murrayfield Stadium, Edinburgh Date: Saturday, 23 December Kick-off: 17:10 GMT
Coverage: Live on BBC Alba and BBC Radio Scotland
Richard Cockerill was three games into his reign as Edinburgh coach when the full reality of what he'd let himself in for smacked him square between the eyes.
It was mid-September at Myreside and Benetton were in town. The stadium was cold and sparsely attended, a different stratosphere to the glamour of Toulon where he had just come from and the intensity of Leicester where he had spent more than 20 years of his career.
This was grey and low-key, but at least the points on the board offered Cockerill some colour. His team led 14-0 after 25 minutes against a side that had now conceded 11 tries in two-and-a-quarter games of PRO14 rugby.
Then, predictably and spectacularly, Edinburgh threw up all over themselves. A 14-0 advantage became a 20-17 defeat. In the aftermath, Cockerill had a bloodcurdling demeanour.
"That will haunt me forever," he says. "Probably one of the worst experiences of my coaching career. Just horrific.
"The whole world seemed to be saying, 'Told you! Edinburgh - bound to let you down'. If I was a supporter I'm not sure I would have gone back after that. We were rubbish. I didn't sleep well for two or three days."
These are better times. It's still too early to say that Edinburgh can be trusted to put in strong performances every week, but they're getting better. The biggest test of their revival under Cockerill comes on Saturday when they host Glasgow in an 1872 Cup derby match that could bring a crowd of close to 30,000 to Murrayfield.
It's the kind of occasion that Cockerill has been used to his whole rugby life. Big must-win matches in front of large and expectant crowds.
It's what he's been reared on since the day he first set foot in Welford Road and had Dean Richards laying it on the line. 'This is how we train, this is how we play, this is how we behave, this is who we hate and that's who you'll hate too'. In the university of belligerence, Deano was professor. Cockerill learned much from the master.
"Listen, there are times when you drive to Myreside and there are 2,500 people there. It's a great little facility but it's not the same as going to Welford Road and there's 27,000 there or you're coaching in the Premiership final and there's 80,000 or you're stood in the tunnel at the French Top 14 final as Toulon coach and you know you're involved one of the biggest games in world club rugby.
"It's not the same, I can't lie to you. It doesn't take a genius to work that out. Since I came to Scotland, Saturday will be the first time I'll have had that kind of vibe: a great stadium, two good teams, a bite to the game, anticipation and expectation.
"I'm going to be nervous. I've only ever coached where things have already been set up and there's a good team there and good structures. Here it's different. Am I a good enough coach to make it work? I'd like to think so, but if we get beat by 50 on Saturday we might be having a different conversation.
"It'll be a huge test and I honestly don't know what's going to happen. I know we'll fire a few shots at them and we'll be in the fight, but I've got to see if this group can deal with this pressure and we don't know that yet."
Cockerill's experience of the highs and lows of big-time rugby is vast. He was in Leicester's match-day squad for three European finals, starting in the one they lost and being an unused substitute in the two they won.
As coach, he took Leicester to four Premiership finals between 2009 and 2013, winning two and losing two. He was coach when Leicester lost the Heineken Cup final to Leinster at Murrayfield and was the main architect of Toulon's renaissance in the latter half of last season. Under Cockerill they went all the way to the Top 14 final in front of 80,000 at Stade de France where they lost by six points to Clermont.
To get an angle on Cockerill and the things that drive him, you need to go back to where he started, to the working class area of Newbold-on-Avon in Rugby, Warwickshire where he was born and reared and to Welford Road where he found his greatest seat of learning.
School was not for Cockerill. He left at 16 and couldn't wait to get out. He did an apprenticeship in cabinet-making and antique restoration, but mostly he did rugby. It was what he was meant to do.
"I've always believed that hard work can be a point of difference, it can help build resilience over time. I had a working class upbringing which I'm quite proud of. Both my parents were hardworking people. Those things stick with you.
"I left school with no qualifications because I was very unacademic, which is a translation for being quite stupid. In those days it was Maggie Thatcher's Youth Training Scheme - young, thick and stupid, and I was one of those. When I joined Leicester, everything changed for me.
"When you first arrived as a player everybody punched and kicked you in training because they wanted to see how you reacted. These days it would be called bullying, I suppose. It's how it was. I was a product of that and I didn't always behave myself.
"In my career I've made a lot of mistakes. I've done a lot of pretty stupid things. Complaining about refs, making disrespectful comments to opposition players, I had an attitude that if you can cheat and get away with it then you cheat and get away with it. It's gamesmanship.
"There were no yellow cards, no cameras, or very few. It was a game of tough men. If you wanted to mix it then there were plenty of other guys who were ready to mix it too. It wasn't pushing and shoving when it kicked off."
His rugby principles are largely old school. You could even describe them as Jim Telferesque - a simple focus on wanting it more than the next bloke. In a word: hunger.
"The thing I am trying to create here is to get guys to understand how hard you have to work if you want to be good, how hard you have to work if you want to be really good. I think a lot of modern players don't understand how hard it is to be world class.
"One of the sad indictments around the modern game is that we try to create hardship, whereas the era we played in people came from hardship. There are people who still do come from tough backgrounds, but they're few and far between. Even if you are from a hard environment you get a scholarship to a nice private school where you are taken away from that.
"Now, I'm not saying that's wrong, because we all want what's best for our kids and education is a big part of that. Sometimes, though, you really want that rough-arsed kid from the council estate that doesn't care about anything. We have a few here."
When it was announced that he was moving to Edinburgh there were plenty in his inner circle who thought it an odd decision.
"They were going, 'Hmm...' I was over in Toulon but I was in touch with Duncan Hodge, who was acting head coach. We were losing every week. Duncan is a really good coach but every time I saw him his eyes were a bit further back in his head and he was balder and he looked like he was hating life, which he probably was at the time.
"Then, on the last day of the season they go and beat Glasgow and I thought, 'Ok, there's a core there to work with'. It gave me some optimism that they weren't completely useless."
Once Cockerill made his mind up, he was going all-in. His wife left the job she enjoyed and the kids left their school and they came to Scotland as a family.
"I'm going to ask a lot of the players so when I'm demanding a lot of them I don't want them seeing me getting in my car on Tuesday at 4.30pm and going to England for the next day and a half. I live locally. I'm part of the community."
That community will come out in force on Saturday. Edinburgh are on a very tidy run but the fixture list has been kind to them of late, pitting them against lesser teams that have been put away with ease. Glasgow, with 10 wins from 10 games, are an entirely different proposition.
"When I came here, this place needed a firm hand and the players needed to hear some home truths. There's no comfort zone. We're getting there. Saturday will be a great judge of how close we are."
Edinburgh & Glasgow in Pro12 - last six years
Season
Edinburgh
Glasgow
2016-17
9th
6th
2015-16
9th
3rd
2014-15
8th
1st (champions)
2013-14
8th
2nd (finalists)
2012-13
10th
3rd
2011-12
11th
4th