Wayne Pivac: Scarlets boss would 'very seriously' consider Wales head coach job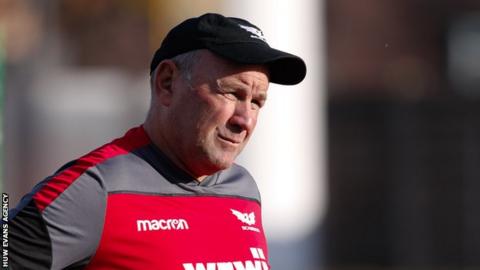 Scarlets head coach Wayne Pivac would "very seriously" consider the chance to succeed fellow New Zealander Warren Gatland as Wales head coach.
Gatland will leave the role after the 2019 Rugby World Cup.
Former Fiji boss Pivac took charge of Scarlets in 2014 and coached them to the Pro12 title in 2016-17.
"If the opportunity come then yeah, I'd probably look at it," said Pivac, whose Scarlets contract runs until the end of the 2019-20 season.
Pivac joined Scarlets in 2014, succeeding Simon Easterby, and under him they have won plaudits for their attacking style.
Welsh Rugby Union chairman Gareth Davies stated in October that they have a three-man shortlist of contenders to succeed Gatland.
It is not clear if Pivac is one of those three candidates, but added: "I would certainly look at that very seriously because I consider myself now to be part of Welsh rugby.
"I was part of preparing Fiji for the World Cup in 2007. I had three years out there and loved every minute of it.
"It (international rugby) would be nice again one day, but it's all about timing. I'm still learning as a coach."
'Northampton? I'm not going anywhere'
Pivac was linked with taking over Japan after the 2015 Rugby World Cup and recently his name has been raised as a potential new boss at Northampton, following the departure of Jim Mallinder.
He responded to questions about the Saints job by saying: "I just re-signed with the Scarlets so I'm not going anywhere.
"I haven't spoken to Northampton and I have no intention of speaking to Northampton.
"It's a great environment here and the penny has dropped with the players.
"You can enjoy coming to work and rolling up your sleeves or you can be a slob. This group enjoy coming to work hard.
"Opportunities get presented every now and then where you can earn more money as a player or coach somewhere else, but you've also got to put a value on enjoying coming to work.
"I feel in a privileged position where I love getting up every day and coming to work.
"Sometimes it's hard to get in the car and go home, that's how much fun we have here."
Keep choking the opposition?
Scarlets go into their west Wales Pro14 derby at Parc y Scarlets against Ospreys on Boxing Day top of Conference B.
Pivac said: "You have to keep getting results and doing well. It's all about timing.
"Right now things are going okay, but we can't take our foot off the throat.
"You have to keep working hard because every other team is doing the same thing and it doesn't get any easier."