Dragons: Wales star Gavin Henson considers coaching future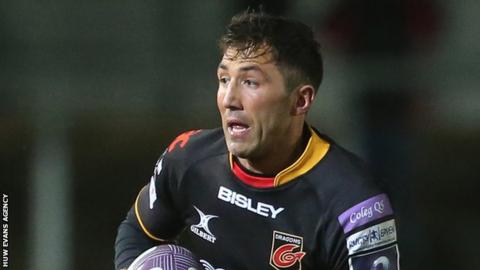 Pro14: Dragons v Cardiff Blues
Venue: Rodney Parade, Newport Date: Tuesday, 26 December Kick-off: 14:00 GMT
Coverage: Live on Scrum V from 13:50 GMT on BBC Two Wales, online and the BBC Sport app, plus updates on BBC Radio Wales
Gavin Henson says he will consider a coaching career once he finishes playing - if he can cope with the time commitment involved.
The 2005 and 2008 Wales Grand Slam winner, 35, has a second season left on his current Dragons contract.
"It (coaching) might be something I'll probably go down, I naturally do it with the players," he said.
"It's in me to do, but I worry how much time it'll take up, because I want to be good, and it'll be a 24-hour job."
The much-travelled Henson is hoping to keep his playing boots on as long as possible, after receiving assurances that Dragons coach Bernard Jackman wants to activate the second year on his current contract, which was originally dependent on his number of appearances.
"As a player, it's not as much time. That's why I'm trying to stay as a player, I think it's easier," joked Henson.
'More to come'
After a career taking in Llanelli, Swansea, Ospreys, Cardiff Blues, Saracens, Bath, London Welsh, Toulon and Bristol he is still striving to improve his standards in a Dragons shirt, six years after the last of his 33 Wales caps.
"I'm trying to get back to those levels of performances back in the day.
"I feel there's a lot more to come from me still and I need to put in an 80-minute performance, but it's coming.
"I feel I've done some nice things, but I just need to be more consistent and help the team more.
"I like helping the players around me and you have to have that sort of mature head on you to be a (number) 10."
Bad Stradey Park memories
Henson hopes he come a long way since the notorious Llanelli-Swansea derby in 2002, when he was sent off for throwing Scarlets' Garan Evans into an advertising hoarding, an incident he brings up unprompted.
"I don't have a good track record from the Llanelli-Swansea days when I had my red card, but these days I'm a bit older, a bit wiser so hopefully I'll keep a calm head and steer us in the right direction.
"You don't want (derbies) to boil over, but you want that edge.
"We all love that side of it, those big hits and a bit of niggle, but the main thing is the results."
Dragons host Cardiff Blues on Boxing Day and are then at home against his another of his former teams, Ospreys, on New Year's Eve.
'Bad move' to Blues
Henson's first derby date over the holiday period will be against Cardiff Blues, who sacked him in 2012 for alcohol-fuelled misbehaviour on a flight back from Glasgow.
"That was awful," he said of his departure.
"That was a terrible time for me personally, I made a bad decision and paid for it massively. Not a great moment in my career, but I learnt from it.
"It wasn't a great move for me going to Cardiff Blues, it was a bit naive from me and my agent at the time.
"I was going to be signed as a 10 or 12 and it just didn't really happen, I just played full-back and didn't run in those positions in training."
Teenage half-back partner
But Henson retains his enthusiasm for the game, despite the shock of playing alongside a scrum-half who is half his age in 17-year-old Dan Babos.
"I didn't realise until they said something about a millennium baby (Babos was born in 2000), and I was playing my first game when he was born more or less - crazy isn't it?
"But he's brilliant, his passing's unbelievable, and what a player he's going to be."
Before the hectic festive derby schedule, he will enjoy a family Christmas, albeit with an eye on his diet on the day before a match.
"Turkey, no gravy - the thickness and the yeast in it, you don't want that," he said.