Women's Six Nations 2018: Nine uncapped players in Ireland squad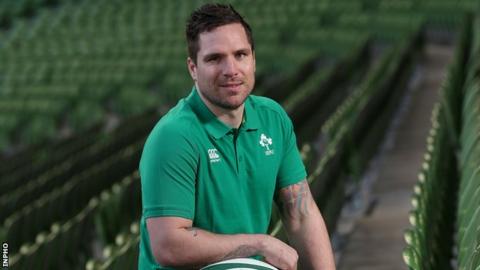 Ireland coach Adam Griggs has named nine uncapped players in a 38-strong squad for the 2018 Women's Six Nations.
The backs yet to play at senior level are Michelle Claffey, Deirbhile Nic A Bhaird, Susan Vaughan, Katie Heffernan, Eve Higgins and Megan Williams.
Laura Feely, Aoife McDermott and Edel McMahon are the uncapped forwards.
Griggs, who has been appointed until the end of the championship, will name his captain in the new year after the completion of scheduled training camps.
Ireland play France in their opening game in Toulouse on Saturday, 3 February
That will be followed by three home games with Italy on 11 February, Wales on 25 February and Scotland on 11 March, then England away on 16 March.
Ireland will also travel to face Wales in an uncapped warm-up fixture in January.
Nine players named are part of the Ireland Women's Sevens programme and with the Sydney Sevens taking place on 27 and 28 January, players who are selected for that tournament will not be available for the game in France.
Laura Feely, Aoife McDermott and Edel McMahon are the uncapped forwards in the squad, with Michelle Claffey, Katie Heffernan, Eve Higgins, Deirbhile Nic A Bhaird, Susan Vaughan and Megan Williams the backs who have yet to appear in the senior green shirt.
"Over the course of the interprovincial fixtures I've had the opportunity to see the players in competitive and challenging games, and it was very valuable for me to see them in action," said New Zealand-born Griggs.
"There is good experience in the squad, with most of the players selected competing at this level for a number of seasons.
"In addition to those experienced players, there are also nine uncapped players named, and they've all earned their inclusion by performing well in the Interpro games and for the Irish Sevens, and I've no doubt there will be good competition for places throughout the campaign."
Ireland will hope to make up for a disappointing World Cup which saw coach Tom Tierney resign after a defeat by Wales in the seventh-place play-off meant they will have to qualify for the next tournament.
Ireland Women's Six Nations Squad 2018
Forwards: Elaine Anthony (Munster),Ashleigh Baxter (Ulster), Anna Caplice (Munster), Ciara Cooney (Leinster), Laura Feely (Connacht)*, Paula Fitzpatrick (Leinster), Orla Fitzsimons (Leinster), Nichola Fryday (Connacht), Ciara Griffin (Munster), Leah Lyons (Munster), Aoife McDermott (Leinster)*, Edel McMahon (Connacht)*, Claire Molloy (Bristol), Cliodhna Moloney (Leinster), Ciara O'Connor (Connacht), Chloe Pearse (Munster), Lindsay Peat (Leinster), Fiona Reidy (Munster).
Backs: Niamh Briggs (Munster), Nikki Caughey (Ulster), Michelle Claffey (Leinster)*, Mairead Coyne (Connacht), Nicole Cronin (Munster), Jeamie Deacon (Leinster), Katie Fitzhenry (Leinster), Kim Flood (Leinster), Louise Galvin (Munster), Mary Healy (Connacht), Katie Heffernan (Leinster)*, Eve Higgins (Leinster)*, Ailsa Hughes (Leinster), Claire McLaughlin (Ulster), Alison Miller (Connacht), Sene Naoupu (Leinster), Deirbhile Nic A Bhaird (Munster)*, Hannah Tyrrell (Leinster), Susan Vaughan (Leinster)*, Megan Williams (Leinster)*
*denotes uncapped player