Edinburgh: Dougie Fife and James Johnstone sign full-time contracts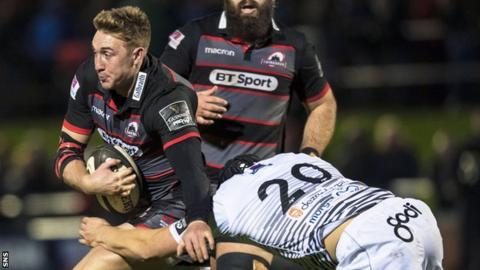 Scotland Sevens players Dougie Fife and centre James Johnstone have signed full-time contracts with Edinburgh from next season.
Wing Fife and centre Johnstone, both 27, have agreed new two-year contracts, having been used on a part-time basis by the club so far this season.
Fife had a previous spell at Edinburgh, now coached by Richard Cockerill.
"We're really please that Dougie and James have chosen to extend their time in Edinburgh," said Cockerill.
"They want to be part of what we're building at this club.
"Both of the guys have worked incredibly hard this season and will play play a major role in helping the squad moving forward."
Fife said: "Edinburgh is a club that means a lot to me. I've noticed some big changes at the club and it's a very exciting squad to be part of.
"My time with Scotland Sevens has given me a huge lift and I'm really enjoying my rugby again. I'm looking forward to bringing that spark back to Edinburgh."
And Johnstone added: "I am delighted to have joined the club for the next two years.
"I am really looking forward to continuing my rugby development under the guidance of Richard Cockerill.
"It's an exciting time to join the club and I'm looking forward to playing a part in helping Edinburgh aspire to new levels in the Guinness Pro14 and in Europe."