Alan Solomons: Worcester's new director of rugby already in charge, says lock David Denton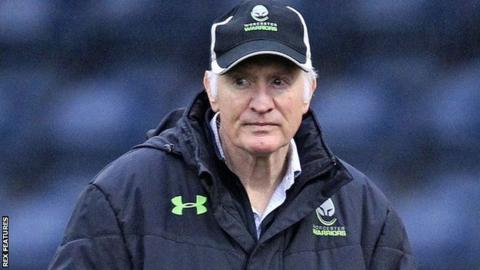 New Worcester director of rugby Alan Solomons will take official charge for the first time at Saracens this weekend but has, in reality, effectively been in charge for the past two months.
Solomons stepped in to assist Gary Gold in October when he returned to South Africa to be with his young family.
Director of rugby Gold then came back to the up-for-sale club in November.
But Warriors and Scotland back-row Dave Denton admitted: "Alan's been running it pretty much since he first arrived."
The 35-times capped Zimbabwe-born international told BBC Sport: "The club wanted to get a better idea of what Solly would be like in charge and they've obviously liked what they've seen as they've appointed him for the foreseeable future, which is great.
"They have worked well together. For the last two months he has been effectively running the director of rugby role from an on-field perspective, while Gary has been doing more of the administrative side, so it has been a natural progression.
"We all understood the reasons for Gary leaving. It wasn't just a case of ditching us and running off halfway through a season. The reason he's leaving now is because he thinks that's what's best for the squad.
"We don't feel he's doing it for selfish reasons. He was more than willing to honour his contract to Worcester. It will work out best for both parties.
"It's been great for Worcester to ease us into Solly coming in. It takes a while to develop trust. You don't really know a man until you've worked with him properly."
Warriors on the up again
While Gold has already flown back to South Africa again, prior to starting his next job as United States national coach in the new year, Solomons, whose appointment on a two-and-half year-deal was announced on Saturday, will now take sole charge against Sarries at Allianz Park.
And he does so at the helm of a transformed, rejuvenated Warriors side who, having lost their first seven Premiership matches this season, have now won three of their last four.
"If you're going to have a change like this mid-season, it's important that a lot of things don't change," said Denton. "But small things can make a big difference and we're looking to improve.
"We're two wins from being in that mid-section in the table, and that's much more where we see ourselves.
"We could have made any number of excuses this season but we've got some strong characters in the squad.
"The Premiership is so open. The top four are changing every week, so are the mid-six and, although we still take one game at a time, we'd like to get ourselves up there.
"Gary Gold was a big reason I came to the club. He's a very passionate man and I enjoyed my time working with him. He's a great man manager and very a good technical coach as well.
"But I worked with Solly for four years at Edinburgh and have a huge amount of respect. He's very similar to Gary as a man and as a manager. His philosophy on rugby is to get the simple things done well, work hard and everything else falls into place."
New injury blows for Warriors
Warriors will go to Saracens this weekend on the back of two new injury blows.
England training squad prop Nick Schonert has suffered a new ankle injury and the club are now awaiting results of a scan to determine how long he will be out for.
Also, stand-off Jono Lance sustained a broken hand in the pre-Christmas Friday night win over bottom club London Irish and will be out for approximately six weeks.
But Solomons says that full-back Chris Pennell will remain on kicking duty - especially in the light of his 100% kicking performance against Irish.
"At the moment, he's our number one," Solomons told BBC sport. "He's a good kicker. He strikes the ball well and he's kicked superbly. He will continue. He's happy and we're happy."