Elliot Dee: No action against Wales hooker over referee 'contact'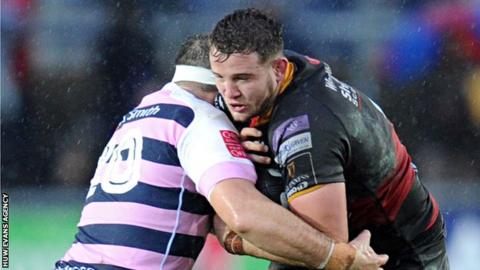 A citing complaint against Dragons and Wales hooker Elliot Dee was not upheld after he was initially charged with making contact with a referee.
The incident took place in the 77th minute of the Pro14 Boxing Day derby against Cardiff Blues at Rodney Parade.
Dee was charged with making contact with referee Andrew Brace in the 22-17 loss.
The 23-year-old is free to play with immediate effect and will feature against the Ospreys on New Year's Eve.
Dee was cited under Law 10.4 (m) - which states a player must not do anything that is against the spirit of good sportsmanship.
The disciplinary hearing committee met in Edinburgh to consider the complaint.
After reviewing the video clips and reports and hearing explanations from the player and his coach, the hearing committee stated an act of foul play had been committed but it did not merit an on-field red card, so the citing complaint was not upheld.