Alan Gaffney: Northampton Saints' on-field decisions must be better, says interim boss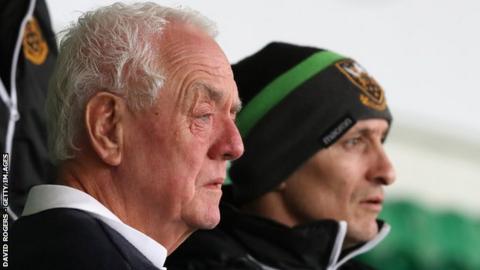 New Northampton Saints coaching consultant Alan Gaffney says it "shouldn't be too difficult" to turn around the struggling side's fortunes.
After winning four of their first five games to head the early-season Premiership table, the 2014 champions have now lost their last seven.
Having sacked director of rugby Jim Mallinder, they have turned to 71-year-old Gaffney to improve results.
"We've just got to make the correct decisions and run with them," he said.
"There's only three things you can do with a rugby ball," the Australian told BBC Radio Northampton. "You can run with it, kick it or pass it. You can't do anything else.
"Everyone makes mistakes and we have to limit those mistakes but, whether it involves kicking to the corner or running it from your own 22, as long as they're trying to be positive, no player will get any hurt from me."
Gaffney's official job title is technical coaching consultant and he will be with the club for the rest of the season.
Having studied videos of the players he has inherited, the former Munster, Leinster and Ireland coach admitted: "There's a slight lack of confidence and it's a case of not seizing opportunities.
"The accuracy has just not been there. We've got to convert those opportunities. And some players aren't touching the ball enough.
"We have got to work harder and get players back in the game faster. Logs lying on the ground, I think Eddie Jones used to call them.
"There's a lot of talent there. For whatever reason, the performances aren't there and the results aren't there. But it shouldn't be too difficult to turn around. There's a confidence among the coaches that it's waiting to happen."
Will Gaffney be the gaffer?
Gaffney starts with a home game this Saturday against Gloucester, coincidentally the side that ran in four second-half tries to trigger Saints' losing league run at Kingsholm on October.
The club say the experienced veteran will "oversee the existing coaching team" of acting head coach Alan Dickens, forwards coach Dorian West, defence coach Phil Dowson and assistant coach Mark Hopley.
But he said: "Dicko, Doro and Dows will be running it.
"I've been round the clock for a few years. And I will be lending a hand where I can. I've known Dicko and Doro for many years and I know Dows from his playing days.
"They don't need me to run roughshod over them. My involvement will be reasonably deep, but they will be primarily the coaches."