Mental health in rugby: Nick De Luca calls for more action to help 'struggling' players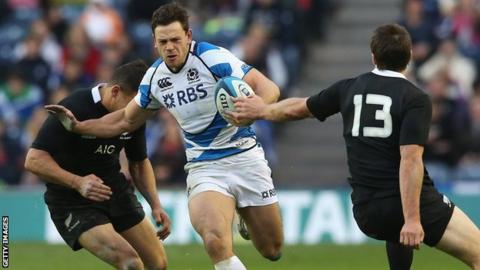 More must be done to keep players mentally healthy amid the "hugely pressured and competitive environment" of professional rugby, according to former Scotland centre Nick De Luca.
The 33-year-old believes British clubs and coaches often lack the knowledge to address mental wellbeing, and that players are frequently reluctant to open up.
De Luca knows of recent internationals "who are really struggling just now", arguing that emotional health should be approached with the same rigor as gym work, physical fitness and tactical analysis.
"There has been coverage recently of the number of professional footballers suffering from mental illness - the same is true of rugby, it's just not really talked about," De Luca, who played for Border Reivers, Edinburgh, Biarritz and Wasps, told BBC Scotland.
"People go away and disappear and it's not reported. Friends that played with me in the Scotland team are really struggling just now, and there's nothing being said or done to assist those people."
'I couldn't cope with the abuse'
The retired centre outlines a tempestuous relationship with rugby, and a 43-cap Test career from 2008 to 2014 that brought "some of the best highs", yet "comfortably my worst lows".
His Scotland tenure spanned a largely barren period for the national team - a period in which he was often castigated for failing to bring the verve and panache of his club form with Edinburgh to the international stage.
De Luca deleted his Twitter account because "I couldn't cope with the abuse", and his anxieties grew so pervasive that he once played a Test match "without sleeping a wink - zero hours' sleep" the night before.
"I'm lucky that I've never had a mental illness, but I have had poor mental health and there are plenty of us [in professional rugby]," De Luca said.
"I've struggled to go to work and enjoy my job for Scotland or Edinburgh, and that was due to not having the knowledge or support around me.
Nick De Luca on mental health
"We all have good and bad mental health at different times in our lives - it is not fixed.
"On one axis is the medical language and diagnosed illness, and on the other is emotional wellbeing and social language. That means those with no diagnosis can still suffer poor mental wellbeing."
"Little things like throwaway comments, or even the way journalists write about you or rate you can really have a detrimental effect.
"I didn't enjoy Edinburgh for a long time because of relationships with coaches, and the same with Scotland.
"At the time, without someone helping you or explaining why you're feeling the way you're feeling, it's not positive for you or the coach.
"There are people who play for Scotland now who have wanted to give up. It's just such a tough environment that you don't want to put yourself back out there again, you don't want to keep going.
"I won't name names but I have a friend who wanted to quit, and we managed to get round him - his family, his friends - to get him back in, and since then he's had an incredible purple patch. I'm so glad that he didn't walk away, because it'd have been the biggest regret of his life."
'We never address how our mind works'
De Luca's contention is that if clubs are prepared to invest heavily in honing their players' physiques, skill-sets and tactics, then they ought to address their mental wellbeing with a similar thoroughness.
"From my experience and from speaking to people, emotional wellbeing is not really looked after at all," he said.
"We all noticed a huge improvement when Vern Cotter took charge of Scotland [in May 2014]. That wasn't just on the field and his training - he brought in specialists to help boys engage with their minds and mental health.
"It's something New Zealand have been doing for years at all levels - no wonder they're the most resilient team and win games in the last minute regularly.
"It's well recognised that rugby is in the top two inches. The margins are fine, and we develop our nutrition, all our supplements, all our food planned.
"We do our weights, our speed, our fitness. We're measured to the inch, and we're always talking about these percentages, these little gains on the pitch. We're doing our analysis - hours and hours and hours - looking at the opposition, looking at ourselves.
"Yet we never really address how we actually work and how our mind works. That was probably my huge weakness, and I know having done a bit of work with a few other players and a few specialists that it's a lot of people's weakness. It should be addressed and needs to be.
"If coaches, directors of rugby or chief executives could understand or visibly see the difference that engaging in mental wellbeing would have on the players' performance or wellbeing, they would do it. They would see the value in it. They're happy to spend £3-4,000 on a GPS unit to see how much the boys are running."
'Players need a safe space'
The Rugby Players Association, an organisation De Luca says does "fantastic work", launched a campaign last year called Lift The Weight, fronted by England internationals such as Jonny Wilkinson and James Haskell, who shared their own troubles.
Scottish Rugby has been developing a wide-ranging package of mental health support over the past 18 months called "Rugby for Life", which will be launched in the coming weeks.
The governing body says it has "evaluated a broad range of key areas to assist players at the appropriate age, and stage, of their careers to achieve a healthy sport/life balance as they transition into or out of professional rugby", with advice and expertise sought from mental health charities, professional organisations and academic experts to help spot 'triggers' which could result in mental health issues.
Now a qualified mental health first aid instructor, De Luca is teaching and coaching at Uppingham School, in the East Midlands.
He believes players need a "safe space" within their club, an enclave away from the ears of their coach to unload their worries.
"If you're worried about presenting as weak, if you're playing for a contract in six months and you're struggling, are you going to say to the coach, 'I don't want to go out there because I'm struggling to get out of bed, I'm feeling horrible, the world's against me' - are you going to admit these things? No, you're not," he said.
"Bare minimum, a few members of staff should be trained to help, identify and deal with [poor mental health], and be available just to talk.
"Someone who is safe to talk to, the boys are able to open up to and get the help they need without necessarily affecting their job, because that's what they're worried about.
"It is an incredible career, but with that comes the stress of having millions of people watching you, having access to you, commenting on you. To say what they think is a throwaway line on a computer, that can stick with you.
"As rugby players we are so lucky, we get to do what we love for a good amount of money, but we're in such negative environments. Everybody is so hard on themselves. They need a little support and someone who is actually a professional to come in and help them, as opposed to relying on their peers."
Scottish Rugby position on mental health:
"Scottish Rugby has recognised and acted on the growing importance of mental health in both performance and working environments. We are finalising our comprehensive mental health support programme "Rugby for Life" which will see the delivery of a holistic approach to player welfare to ensure appropriate help and expertise is available when required.
"Our Academy programme already aims to develop the whole person, not just the rugby player, and we are exploring other ways to help players transition at the end of the careers.
"We will shortly begin to implement "Rugby for Life" with players across our professional, representative and Academy teams and continue to develop our understanding and work in this important area."