Rob Baxter: Exeter Chiefs unlikely to make many summer additions to squad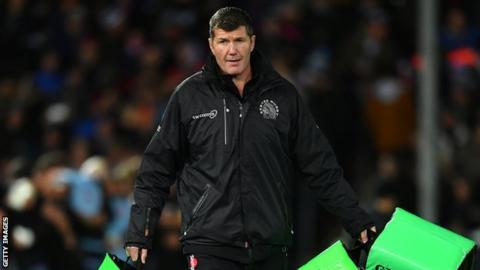 Exeter director of rugby Rob Baxter says he is unlikely to make many additions to his squad.
Out-of-contract players are now able to open discussions with other clubs about summer moves.
"You're not going to see six new signings next season," Baxter said.
"Will there be one or two? Yes, potentially. Will most of our retention and recruitment work be based around the players who are here? Yes, it certainly will be," he told BBC Sport.
Kai Hortsmann has already announced that will retire at the end of the season, while there has been speculation that Thomas Waldrom will leave the club at the end of his contract this summer.
Exeter have more than 15 players out of contract at the end of this season, including captain Gareth Steenson and internationals such as Lachie Turner, Greg Holmes, Michele Campagnaro and Ian Whitten.
"Of the majority of what you'd describe as our frontline 30 senior players, the majority of those contract situations have been settled now and we'll be making announcements over the course of the next month," Baxter added.
"We've still got a handful to do, but I'm very comfortable already where our squad is going into next season."
And the Exeter boss says he is focused on planning as far ahead as 2022 as he aims to keep the reigning Premiership champions at the summit of English rugby.
He continued: "When you look at some of our academy players, particularly if you think about front row forwards, really you're almost putting in place a three or four-year plan for some of those guys as to when you'll potentially see them coming through.
"That doesn't always come to fruition, but you have to have that in the back of your mind when you start signing players or when you look at the age range of the guys you want to keep on.
"It's like any other planning situation, you don't want to look so far ahead that you don't see what's right in front of you, which is the day-by-day stuff.
"But at the same time, you don't want to get so engrossed with the day-by-day stuff that in two years' time you look around and wonder where everyone is, why has everyone got old and why is the squad thinning out."