Mental health in rugby: Players can become commodities, says ex-Scotland captain Jason White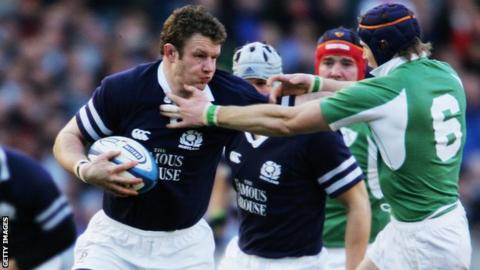 Former Scotland captain Jason White believes rugby stars can be "viewed as commodities" by clubs.
It follows claims that more support is needed to protect mental wellbeing.
White's former Scotland team-mate, Nick De Luca, told BBC Scotland that mental health is "not really looked after at all" by many clubs.
"All the clubs I played at, the players are viewed as a commodity," White said. "The coaches have to get them back out on the pitch."
De Luca revealed that, while he has never suffered a diagnosable mental illness, he was once so nervous on the eve of a Test match that he "didn't sleep a wink".
The former centre, who won 43 caps, referenced current and former Scotland internationals "who are really struggling" with poor mental health.
England's Rugby Players Association (RPA) launched a campaign in early 2017 called Lift The Weight, encouraging players to confront and discuss their mental struggles.
However, while Scottish Rugby will soon instigate its own comprehensive programme of mental health support, no Scottish players' association exists and the governing body is understood to have no plans to form one.
Scottish Rugby's position on mental health
"Scottish Rugby has recognised and acted on the growing importance of mental health in both performance and working environments.
"We are finalising our comprehensive mental health support programme "Rugby for Life", which will deliver a holistic approach to player welfare to ensure help and expertise is available when required.
"Our Academy programme already aims to develop the whole person, not just the rugby player, and we are exploring other ways to help players transition at the end of the careers.
"We will shortly begin to implement "Rugby for Life" with players across our professional, representative and academy teams and continue to develop our understanding and work in this important area."
Retired back-row White played in 77 internationals and represented Glasgow, Sale Sharks and Clermont.
The 39-year-old was latterly an agent to some of Scotland's top rugby talent and says cultivating interests beyond the sport is vital for elite players.
"Looking at what happens in England with the RPA, they're able to provide a lot of support to the players in England," White said.
"That's probably the one thing up in Scotland with our two professional teams here - we don't have a players' association with external funding that can come in.
"For Nick to say that he didn't sleep one minute before an international, how could he have done that? That's quite an unbelievable statement.
"For the players now to have a bit of balance is so important. They need to be preparing for life after rugby - whether they do a vocational course, a part-time study where they can take something.
"They don't need to be defined by what they do on the rugby pitch. If I have a bad game of rugby, am I a bad person? No, you're not at all.
"How can you not let what you do on the rugby pitch determine you as a person? That's the real challenge, which is the puzzle that everyone needs to try and work out."
'Your whole life is controlled'
Former Scotland prop Peter Wright's career straddled rugby's amateur era and the onset of professionalism in 1995.
He believes players may become sucked into the insular environment of professional rugby - and suffer for it.
"The difficulty I have is that, when I played, it was amateur, you had another life," Wright, who won 21 caps, said. "You played rugby, you trained hard, but everybody worked, so you had a different regime.
"When I was a professional for four years, I found it really boring. You worked and socialised with the same guys.
"You didn't have that outlet of going to a job and having a different group of friends.
"Since it's went professional, the way I see it is that your whole life is controlled.
"You're told when to do weights, when to train, when to eat, what to eat.
"Your whole life is taken over by conditioning coaches, medics, rugby coaches. How much autonomy do you have as a player?"