George North: Why are we waiting to find out where wing will play?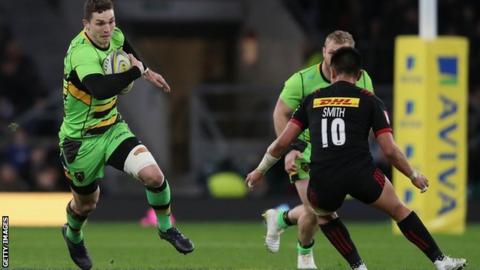 George North is coming back to Wales next season, but we still don't know which of the four Welsh regions he will play for.
In fact, all we seem to know two months after the Welsh Rugby Union (WRU) announced they were bringing him back from Northampton on a national dual contract (NDC) is where he will not be playing.
Scarlets and Cardiff Blues have said they are not in the market for the 69-times capped 25-year-old wing, leaving Dragons and Ospreys in the game.
It's all in stark contrast to his departure from Wales in 2013 when he was courted by clubs in France and England before joining Saints as one of the hottest properties in European rugby.
So what's going on?
The background
North was 20 when he left Scarlets for Northampton before the 2013-14 season in a deal which sparked an acrimonious row between the region and the WRU, who wanted the player to stay in Wales.
In November 2017 the WRU announced North was leaving Saints and returning to Wales on an NDC for the 2018-19 season.
Under the NDC's, the WRU pay 60% of the player's salary with the region he plays for picking up the rest.
Why wasn't he offered one before going to Northampton? Well, they were not introduced until September 2014 when the WRU and the regions finally agreed a deal, a year after North's move to Saints. Then-Wales captain Sam Warburton signed the first NDC.
What the regions have said
Of the three Welsh regions who have expressed an opinion, Scarlets and Cardiff Blues have both said they are not chasing North.
Under WRU rules Scarlets would have first refusal as he left them to join Northampton, but coach Wayne Pivac has said they are "not in the market for a wing".
Blues chief executive Richard Holland says North is a "quality player" but they are prioritising strengthening their pack.
By contrast, Dragons coach Bernard Jackman has made no secret of the fact he wants North at Rodney Parade.
"We would love to have him. He's a world-class player and a world-class bloke," he said after confirming they were talking to the player.
Ospreys are the only region to have maintained a media silence on the subject.
Injury issues
North's time in Northampton has been punctuated by injuries and he has played only seven matches this season because of knee problems, the latest coming in December on his return after a two-month lay-off.
In previous seasons North had well-publicised series of head injuries between November 2014 and December 2016.
Four of those happened between November 2014 and March 2015 and saw the player taking a break from playing from 27 March until 29 August in 2015. Two happened in the same Wales v England Six Nations game in February 2015.
That led to the WRU adding extra staff on match days to monitor possible concussions in games.
Another incident involving North - when he returned to the field after appearing to be knocked unconscious in a game against Leicester - led to the Concussion Management Review Group recommending club medical teams have access to TV footage and replays when reviewing head injuries.
Does he play enough rugby?
His injury record might suggest North does not play enough club rugby, but he plays enough to meet the terms of a dual contract.
An NDC specifies a maximum of 30 games in a season with 16 of those for the region - though there is some flexibility.
At Northampton, and in spite of his injuries and return-to-play protocols after concussion, North has played at least 16 games in each of his four full seasons.
North played 23 times in his first season at Franklin's Gardens, with his next highest total 19 in 2016-18.
Is he the player he was?
North is one of those rare players who emerged fully-formed on the international scene before he'd had time to build a major domestic reputation, scoring two tries on his Wales debut against South Africa when he was just 18 years old. He had played only six games for Scarlets before then.
He has scored 32 tries in his 69 Wales games, and two in three Tests for the British and Irish Lions against Australia in 2013 with a strike rate of 0.47 in international rugby.
He was criticised for his performance against Scotland in the 2017 Six Nations championship and responded with an outstanding display as Wales beat Ireland 22-9 in Cardiff, scoring two tries.
His strike rate in his time with Saints is 0.43, though has tailed off in recent seasons in line with the side's loss of form in the Premiership, although North has said their style of play may have played its part.
In his best season - 2014-16 - he scored 14 tries in 16 appearances for Northampton, four of those in one game against Ospreys.
So why bring him back to Wales?
If the regions seem reticent then Wales coach Warren Gatland has no doubt about North's value.
He is adamant dual contracts will help extend players' careers by limiting their game time - and North clearly figures high in his plans for the 2019 World Cup.
"The big thing is a lot of the players recognise the benefit of the national dual contract is limiting the amount of games - which is 16 for their clubs and an eight-week break in the summer - as they are managed from a national point of view," Gatland told BBC Wales.
"They are looking to try to extend the lengths of players' careers, and finding them something at the end of their careers."