Edinburgh can still improve, says head coach Richard Cockerill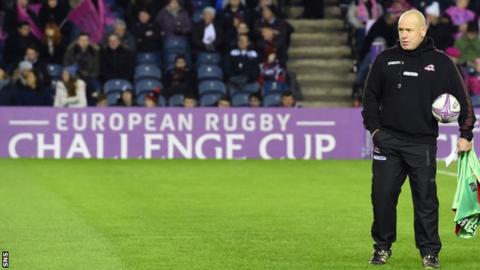 Edinburgh head coach Richard Cockerill says his side are still improving and can build on reaching the European Challenge Cup quarter-finals.
The capital side earned a home tie in the last 16 by defeating Stade Francais 34-33 at Murrayfield.
"We are not perfect. We can be a lot better," Cockerill said. "We have got a lot to learn.
"But it is a stepping stone to how to play these games against very good sides."
The win over Stade Francais was Edinburgh's fifth from five pool matches, with one fixture remaining, away to the French side on 20 January.
Cockerill took charge of Edinburgh last summer and feels progress has been made, but also that the players need to keep pushing the extent of their ambitions.
"There is going to be a point this season when we hit a ceiling and we are going to fail," Cockerill said.
"But we are going to push that ceiling as high as we can and see where we get to.
"If you want a team for people to support, we have got commitment, effort, we are playing to the death, trying everything to win.
"Stade are a good European team with a very good squad. They are very physical and we are not used to playing against that calibre of team. But we matched them and competed.
"I want to win. I have invested a lot of time and effort - as have the players and backroom staff - to try to make this club better, and what we would like it to be. The boys are working very hard and we are seeing some reward."