Mathieu Bastareaud: Toulon defend captain over homophobic comment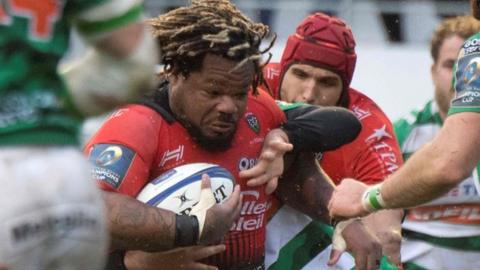 Toulon have defended captain Mathieu Bastareaud after he made a homophobic comment during Sunday's European Champions Cup win over Italian side Benetton Treviso.
The 29-year-old apologised but has been cited and could face a ban.
The club says it is "convinced Mathieu used these unfortunate comments whilst in a state of aggravation as can happen regularly during a game of rugby".
"He is not at all homophobic," the statement adds.
"This kind of language should not allow people to condemn our captain who has always defended the rich diversity between individuals and proves it every day within our group of players."
The incident occurred in the last minute of a 36-0 Toulon victory in which the centre, who has 42 French caps, scored a try.
He tweeted afterwards: "I want to apologise for my reaction to the player's insults.
"I reacted badly in responding to his provocation, I'm sincerely saddened that I could have hurt people."
If Bastareaud is found guilty, he could face a minimum ban of six weeks, putting his chances of playing in the Six Nations at risk, with France's opening match against Ireland on 3 February.
In a statement on Sunday, tournament organisers European Professional Club Rugby (EPCR) said it "had received a citing complaint against the RC Toulon player, Mathieu Bastareaud".
It added: "Bastareaud is alleged to have verbally abused a Benetton Rugby player in the 80th minute of the match in contravention of Law 9.12.
"The complaint was made by the match citing commissioner, Dennis Jones (Wales)."
During the game, former England fly-half Andy Goode condemned Bastareaud's comment.
He wrote on Twitter: "No place in the game for homophobia.
"Absolutely disgusting. I hope EPCR make an example of Bastareaud and ban him for a long time. Should throw the book at him."