Ross Moriarty: Wales back-rower glad to be back from 'serious' injury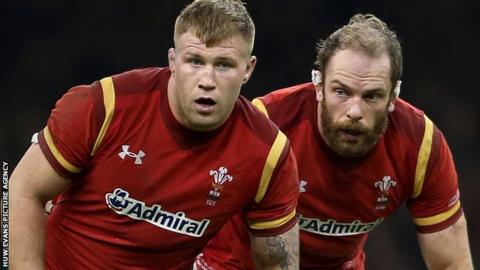 Ross Moriarty says the back injury that ended his British and Irish Lions tour, sidelining him for most of this season, left him unable to climb stairs.
The Gloucester back-rower will return to Test match action when Wales host Scotland in the Six Nations opener.
It is only the fourth time this season Moriarty has played for club or country, and he admits he is just glad to be back on a rugby pitch at all.
"It was a lot more serious than I expected," said Moriarty.
Moriarty's Wales comeback has arrived eight months after he felt "something pop" in his back during the Lions' opening tour game against New Zealand Barbarians in Whangarei in June 2017.
"Two of the discs slipped in my back and jammed into the nerves of my legs, so the muscles on my legs stopped working," he said.
"There were two instances when I felt something pop in my back (against New Zealand Barbarians), and thought it was hip-cracking, but it was my disc popping out of place.
"So I've had to learn to use my leg muscles again. Now they are back and working properly so I can stand on one leg without falling over.
"I couldn't run, stand on one leg, walk upstairs or downstairs.
"That's actually one of the things I had to do after training, be able to walk upstairs without using the banister."
No surgery option
The 23-year-old says surgery was an option that was explored, but not taken up because of the dangers.
"No surgeon would go in there because they said it was too close to the nerve and if they damaged it, that would basically be me done," said Moriarty.
"I went to see four different surgeons, and none of them would think of it. It was tough to hear."
Moriarty attempted a comeback for his club in November during Wales' autumn Tests, only to suffer another setback and be sidelined for two more months.
"In the week following that game a tear in my disc was leaking fluid on to my knee again, so that was giving me a lot of problems in my leg," said Moriarty.
"After that first game back, I was really worried and upset.
"I played and felt absolutely fine, and the week following that in training, it was obvious something had happened again.
"It's always tough when you can't play. Some take it better than others, but there is not much for me without rugby, I took it tough after that second time.
"I had another injection into my disc area then, which has helped. It's all sorted now.
"I feel physically right. I know if I wasn't right, I wouldn't get picked."
Internet trolls
Moriarty is picked in the Wales back-row alongside Aaron Shingler and Josh Navidi, with Justin Tipuric named as a replacement.
While he has been recuperating, Moriarty has signed for the Dragons for next season as he prepares to leave Gloucester.
Moriarty says he endured a difficult time on social media from critics angered by his move, a switch he has made in order to pursue his Test career because of Wales' new senior player selection policy.
"I am a straight person," he said.
"If someone comes up to me and speaks to me personally, I am happy with that.
"When people are saying other things and being told things that aren't necessarily true and writing them on the internet, that doesn't swing right with me.
"There are a lot of people who say things on the internet who have never had any experience in rugby but act like they've coached the All Blacks.
"That is the sad reality and the way social media works."