Allister Coetzee leaves post as Springboks coach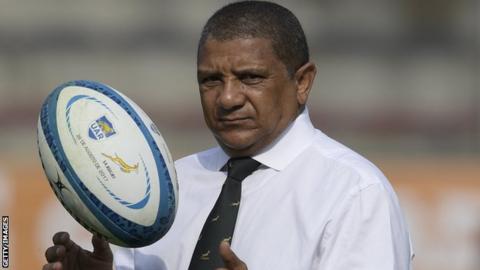 Springboks coach Allister Coetzee has left his post after less than two years following a falling-out with SA Rugby.
Coetzee won only 11 out of 25 Tests in charge and a leaked letter revealed he had complained to officials of a "deliberate attempt to undermine me".
He said he feared new national director of rugby Johan Erasmus would reduce him to a "ceremonial coach".
In a statement, Coetzee said: "I wish Springbok rugby every success in the future - as I have always done."
The 54-year-old added: "I have always held Springbok rugby dear to my heart and will continue to do so, and for that reason I think now is the time the team and me strike out in new directions."
Jurie Roux, head of SA Rugby, thanked Coetzee for his time in charge, but added that "we had to assess what is in the best interests of the Springboks".
South Africa fell from third to sixth in the world rankings during Coetzee's 22 months in charge.
They lost eight Tests in 2016 - a record for a calendar year - and suffered a 57-0 loss to New Zealand in Auckland in September.