Six Nations 2018: Ward salutes Sexton courage in Ireland's French victory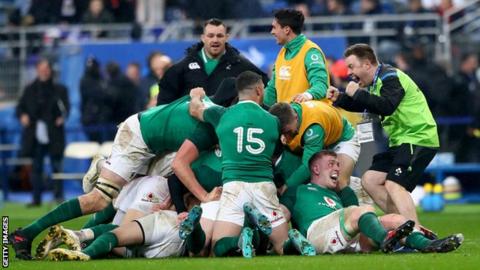 We witnessed courage from Johnny Sexton and the Ireland team in Paris on Saturday.
Collective courage in how the team held on to the ball for the last four minutes of the game, and courage from Sexton in particular.
His cross-field kick to Keith Earls that took Ireland into French territory was really courageous in itself, but then to step back into the pocket for the drop-goal from that distance and in those conditions was superb.
Credit to the French fans who were all around us, as they were trying to lift their team over the line.
But the climax was unbelievable, the way Ireland came back in the end to win 15-13.
Let's be honest, if we had lost that game it would have been disastrous.
We expected Ireland to win, and they have sneaked it. It took courage to do it in the end from all the team, but most of all from Sexton - you have to highlight him.
Joe Schmidt and the Ireland players have had many training camps at Carton House and they would have worked on that, retaining possession at the end of the game.
However, it is one thing practising it, quite another doing it under pressure in front of 80-odd thousand French people.
This was real character by this Irish team - boy, did they have to dig it out.
When I first saw Johnny playing for his school St Mary's, he came on as a 16-year-old and scored a drop-goal in a game which his team won 16-10, his score closing the game out.
And I remember he dropped a similar goal from the same type of distance in a European Cup game for Leinster at Murrayfield.
But on Saturday, given the context, it was like 2009 and Ronan O'Gara's drop-goal in Cardiff when Ireland clinched the Grand Slam. It was that sort of pressure and he just struck it beautifully.
He had the moral courage to take that responsibility, and also to make the earlier cross-field kick to Earls because that was a huge risk at that point in the match.
But he took that responsibility on and that is why he is such a vital player for Ireland and such a great player too.
I thought Ireland would win, although I never thought it would be easy. I certainly didn't feel it would be that dramatic.
To win your opening game is huge in the Six Nations, but to win it in away to France is particularly important because Ireland have three home matches coming up now.
They are nicely positioned with Italy coming up next week, an opportunity for Joe Schmidt to rotate players which he will have to do and then build from there.
Beating France was a huge step towards the ultimate goal.
Tony Ward was speaking on Radio Ulster's Sportsound programme and is part of their Six Nations coverage.