Six Nations 2018: Scotland's weaknesses humiliatingly exposed in Wales thrashing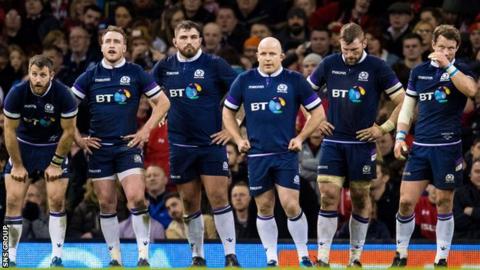 At the bunfight that is the media launch of the Six Nations championship, England coach Eddie Jones was at his mischievous best when talking about Scotland's gathering momentum.
"Let's just wait and see," said the old dog.
"They're big darlings, aren't they? Bright guy, Gregor, eh? Makes me feel like it might be time to retire when you've got a good young coach like that coming through."
You'd have required a trowel to scrape away the sarcasm. And there was more.
"How excited do people get when the ball goes side to side with Scotland? Murrayfield grows an extra 10,000 people," he said. "But to play that way under the pressure of expectation is a different question."
To many, that was Eddie being Eddie. He was at it, he was noising people up again. Actually, he was cutting to the heart of the issue.
The Six Nations isn't a beauty contest. It's not got the airy vibe of a summer tour or an autumn international. It's more intense, more claustrophobic, more pressurised. It's when rugby becomes brutally hard and when the great players and wiliest coaches stand up.
It's a place where physical and mental weakness is ruthlessly exposed.
Jones, Wales' Warren Gatland, Joe Schmidt of Ireland - battle-hardened men who know all about the reality of Six Nations rugby, who know what it takes to win. Gatland said he didn't just think that Wales would do a number on Scotland, he knew it. He thought it would be 20 points.
He told his chief executive that the Scots would get battered.
Scotland 'looked like small boys'
Gatland looked at this Scotland team and saw frailties. Sure, they were capable of devastating rugby when allowed to play, when given the freedom of Murrayfield in an autumn Test that had little relevance to Cardiff in the Six Nations.
What would Scotland do if they had to run into a red wall all day? What would Scotland do if they were up against Welsh players with a point to prove, Welsh players who were ferocious from first whistle to last?
In the aftermath, head coach Gregor Townsend's face was as white as a sheet, as if he'd just seen a ghost. In truth, what he'd seen was how different his coaching life is now compared to the relative gentility of the Glasgow Warriors.
He has entered a place where the big dogs roam.
Gatland is a magnificent operator, one of the games's biggest beasts. Townsend, and his players, looked like small boys on Saturday. And that, more or less, was the message from the master Kiwi. 'You're a talking shop, a group of naiveties who know nothing of life in the trenches'.
In revealing that he always believed that his - severely depleted - team would destroy Scotland, Gatland told us what he thought of the so-called Scottish revival.
Scotland's recovery was a fragile one - and now it's no kind of revival at all. This was the day when they had to announce themselves as contenders and they flunked the test in the most abject and humiliating way.
'Beaten up and embarrassed'
They were out-thought, out-fought, out-played, out-coached. The creative, defensive and leadership function of this team broke down under pressure. A rugby house of cards. On Saturday they came up against a team that shut them down, beat them up and embarrassed them in the most public way.
The gulf, in microcosm, was Ross Moriarty versus Cornell du Preez, the respective number eights. Moriarty, just back from an injury and with little rugby under his belt, versus Du Preez who's been playing nicely for Edinburgh. Moriarty, who was hungry, intense, influential and borderline demonic, versus Du Preez who was a bystander, a nice footballer pitched into a war, a guy who brought a peashooter to a gun fight.
Wales had too much for Scotland. Their backline, shorn of the world class of Liam Williams, Jonathan Davies and Rhys Webb, was magnificent.
They had too many truly tough customers up front. Aaron Shingler, Josh Navidi and Moriarty utterly routed John Barclay, Hamish Watson and Du Preez. Alun Wyn Jones showed Jonny Gray what a world class second-row looks like. Beside him, the uncelebrated Cory Hill looked 10 times the rugby player that Gray looked.
After the la-la-land of summer and autumn rugby, Scotland entered the real world at the Principality Stadium and the real world was savagely unforgiving.
It was a massacre of the innocents. Wales's defence, brilliantly coached by Shaun Edwards, exposed the mental weakness in the Scotland ranks. Barclay mentioned it in passing post-match. The concession of an early intercept try rocked them in a way that a truly top-class team would not be rocked.
The concession of a second try, again off the back off Scottish errors, put them in crisis mode.
France at Murrayfield next
When Scotland butchered a few chances of their own, their confidence emptied. They became a rabble. Townsend felt that a Twickenham-esque meltdown was not possible anymore, that his players had learned the lesson from last year's sobering seven-try defeat. This was as bad, if not worse.
It was the kind of performance that made you rethink everything you ever thought about Scotland's supposed progression from also-rans to contenders. In truth, they're miles off.
They get a chance to come again on Sunday against the French. Mass changes? Probably not, but there will be some serious conversations taking place in the Scotland camp now. Townsend will be checking on the health of Alex Dunbar, Duncan Taylor and Richie Gray for starters. He'll wonder if it's time to bring Greig Laidlaw back in after Ali Price's nightmare.
Du Preez will, surely, disappear. The Six Nations is no environment for a player who flits about the edges of games as the South African does. Ryan Wilson, David Denton and the forgotten man, Josh Strauss, all offer a whole lot more.
When he scrapes himself up off the floor, Townsend has a lot of reality to contend with. What he oversaw on Saturday didn't just drain the colour from his face, it obliterated the hope that Scotland had turned a corner.